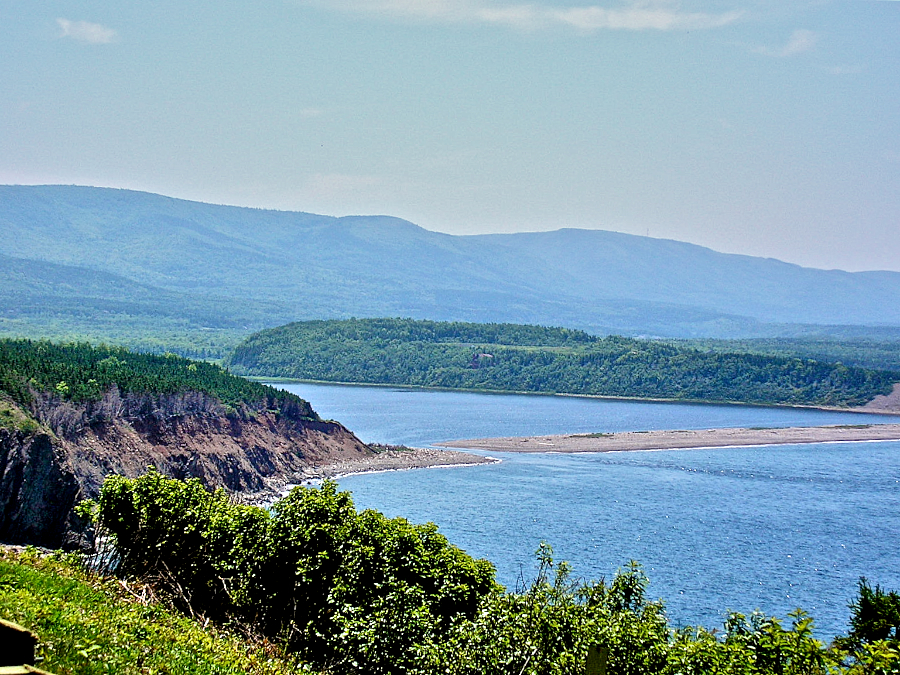 Le Buttereau can be seen here at the left of the photo. The mouth of the Chéticamp River is to its right in the centre of the photo; a sand bar has nearly closed off the mouth, but a passageway has kept it open—beware that there are swift currents that make crossing here dangerous. Swimming well away from the passageway is often done; the water in the river is mostly fresh and warmer; that on the other side of the sand bar is salty and cooler.
A good-sized land-locked lagoon (barachois) named Étang-à-Johnny-à-Eusèbe ("Eusebius' Johnny's Pond") hides on the other side of the hill one sees in the middle of the photo across and directly beside the Chéticamp River. Between this pond and the Gulf is a beach which can be reached by turning down the road by La Boulangerie Aucoin ("Aucoin's Bakery") and following it to its end at the Gulf. This beach is, I believe, private property, but a sign indicates that public access is expected; in any case, it is heavily used in the summer and provides lovely views of the coast and the mountains. After swimming or beachwalking, be sure to stop for the mouth-watering French pastries offered for sale at the bakery; they are rich, sinful, and ooooh, soooo gooood!
The mountains that run across the background of this picture are a prologation of the coastal mountain range seen previously. Here, they begin to leave the coast, with the rolling plain on which Chéticamp sits at the right and mostly outside of this view. As in this photo, the mountains are often a bit hazy, but always beautiful.