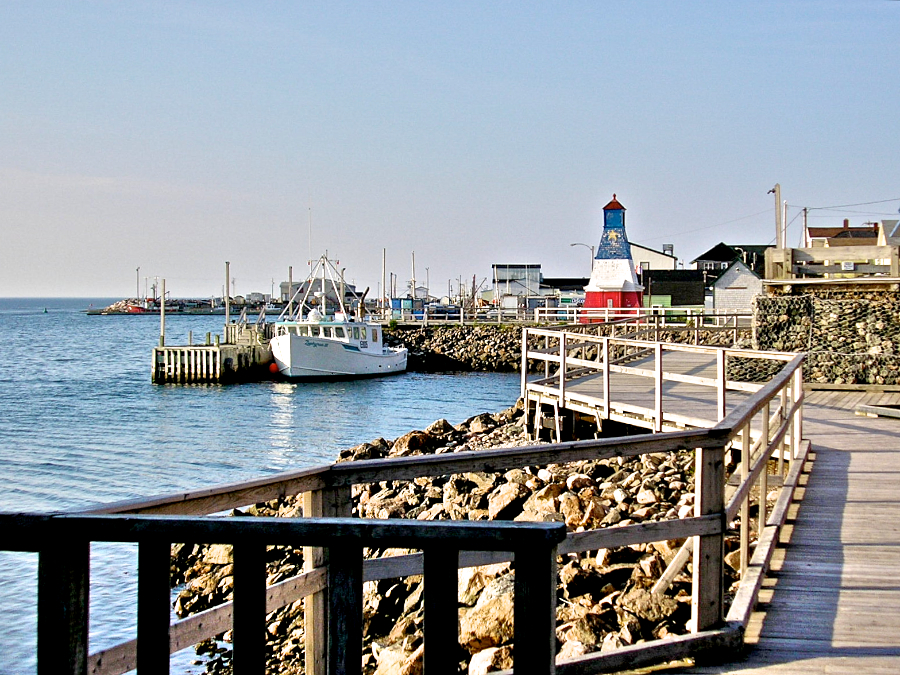 The Quai Mathieu is a lovely promenade/boardwalk that borders Chéticamp Harbour in central Chéticamp, offering fine views of the harbour and of Chéticamp Island across the harbour. It is a pleasant spot in which to take a post-prandial walk after having enjoyed dinner at one of Chéticamp's fine restaurants, most of which are in easy walking distance of the Quai Mathieu or directly on it. That's exactly what I was doing when this photo was taken.
In this view to the north, in late spring, there are few pleasure craft to be seen, but they become plentiful in high summer, taking advantage of the docking facilities available in the harbour.
The red-white-blue with gold star colours on the decommissioned lighthouse seen in this photo mirror the colours of the Acadian flag and are proud testimony to the Acadian heritage of this village.
This part of the harbour is not well protected from a nor'easter and rolling waves propelled by vicious winds have been known to destroy sections of this promenade.