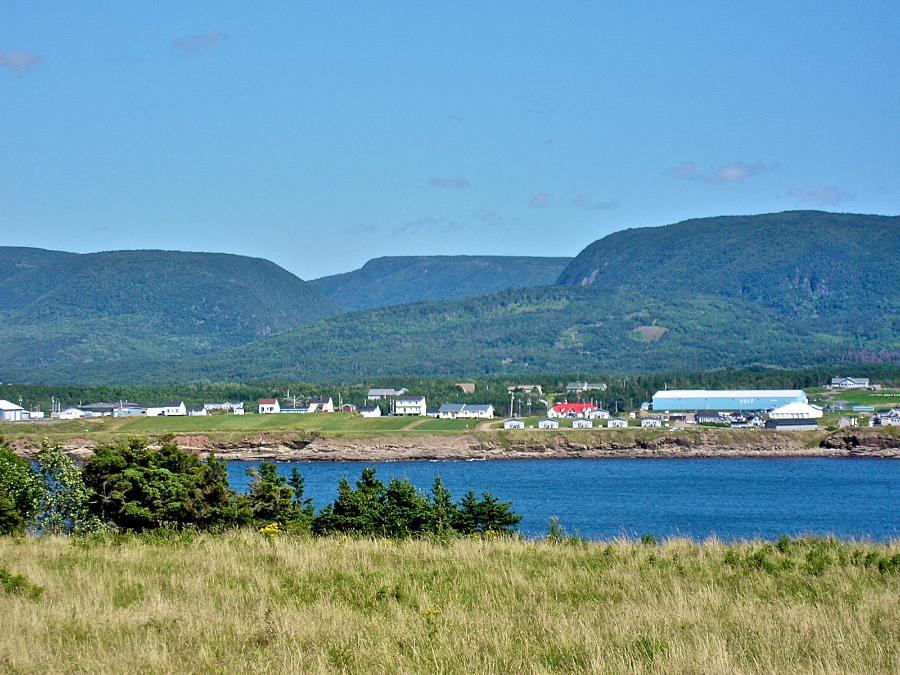 This view from the north end of Chéticamp Island looks across the harbour to the north end of the village and, behind, to the mountains carved by the Chéticamp River as it makes its way to the Gulf. La Grande Falaise is to the left, outside the scope of this photo. La Montagne Noire is the tall mountain at the right of the photo.
The red-roofed building to the right of centre is Les Trois Pignons ("The Three Gables"); its 18th century style French architecture recalls that of Chéticamp's first days and its colours are proud testimony to the Acadian culture it preserves and promotes. The building houses two museums, a gift shop, a community cultural centre, the community's C@P site (which provides visitors and residents alike access to the internet), a library, the The Père Charles Aucoin Geneology Centre containing genealogical archives, a recording studio, and the broadcast studios for CKJM, Chéticamp's local coöperative radio station. The Élizabeth LeFort Gallery displays many hooked rug tapestries created by Dr. Élizabeth LeFort, a consummate artist in hooked rugs who lived from 1914-2005. The Musée Marguerite Gallant holds a very interesting collection of old furniture pieces and artifacts that Marguerite Gallant collected over her life, augmented by donations from others in the community; they concretely and vividly illustrate daily life in Chéticamp in times past in ways that are hard to come by in any other manner.
The long aqua-coloured building to the right of Les Trois Pignons houses another cultural centre, the Chéticamp Arena, home to the local hockey teams, the site of the Gala concert that is the high point of the Festival de l'Escaouette, and host of other cultural events that are too large to host elsewhere.
The building at the far right furthest in the distance is the club house for Le Portage, an 18-hole golf course offering spectacular views while playing on 6,777 yards of tree-lined fairways surrounded by several ponds and brooks and 60 bunkers; it is one of the six prestigious golf courses found on Cape Breton Island.