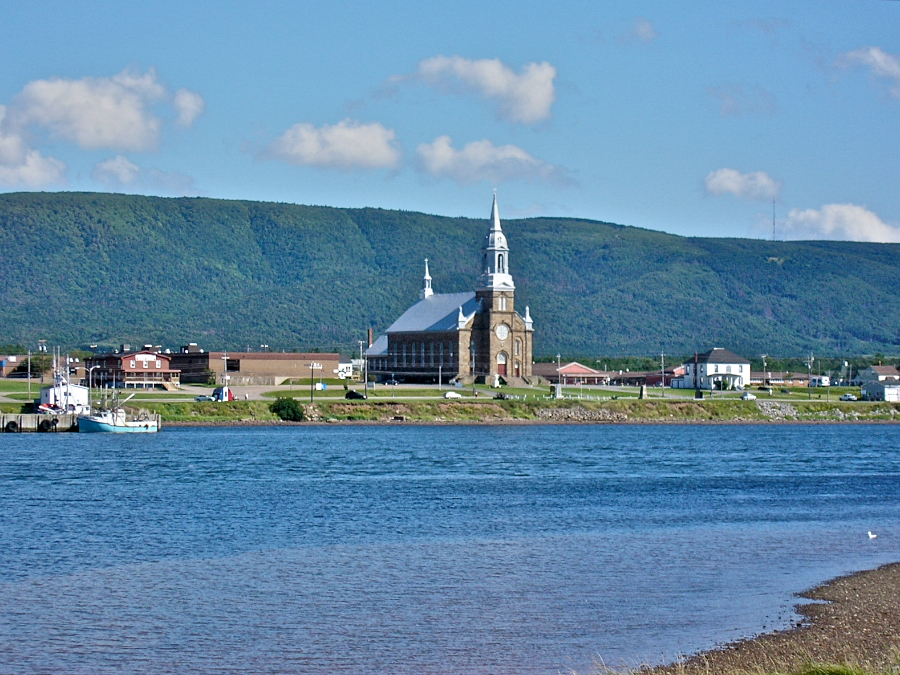 This view from Chéticamp Island looks across the harbour to l'École Notre-Dame d'Acadie ("Our Lady of Acadia School"), nearly always referred to as the l'École NDA, and to l'Église St-Pierre ("St Peter's Church"), two of the primary institutions in the community. The École NDA occupies the building to the left of the church; built in 1963, it houses both an elementary and a secondary school. Its auditorium, la Place des arts Père Anselme Chiasson, which seats 500, hosts concerts as well as other cultural events.
The church itself is also often used for choral concerts and other cultural events. It was constructed in 1892-1893 under the impetus of Father Pierre Fiset (locally pronounced [fizɛt]), an energetic, efficient, entrepreneurial manager who was parish priest from 1875-1909 and who had a great impact on the community, being deeply involved in attempting to break the fishing monopoly, which led him to establishing a model farm, a fishery business, a gristmill, a sawmill, and a gypsum mine and processing mill! The parishioners provided the lumber and brute labour for the church: donating a day's work each month, they used horse teams to drag the stones, contributed by the Jersey merchants from a quarry on Chéticamp Island, across the ice in the winter time. Father Fiset engaged the architect D. Ouellet of Québec and the contractor Hubert Morin of Trois-Pistoles to build the church; the craftsmen they brought to the task were all from the province of Québec. The resulting building is therefore very similar to the Romanesque churches seen in villages all along the St Lawrence River in Québec. 65 m (212 ft) long and 23 m (74 ft) wide, the church is topped with a silver steeple 55 m (180 ft) high. It acquired an original Casavant organ in 1904, which remains in great shape. The original fine Baroque interior, in various greys accented with gold leaf details, was redone for the celebrations marking its centennial in 1993. Near the tomb of Father Fiset, the church includes a memorial exhibiting his works that visitors may view.¹
At the right of the photo, along the ridge formed by the mountain range, sits the transmission tower of CKJM Radio, whose top is 475 m (1558 ft) above sea level.
---
¹ The information about l'Église St-Pierre is primarily taken from a web page that no longer exists; you can find a copy in the Wayback Machine's internet archive here. I have reworded and condensed the information there, which includes photos of the interior. As well, Les Acadiens de la Nouvelle-Écosse hier et aujourd'hui by Sally Ross and J. Alphonse Deveau (ISBN1-55109-391-X), pp. 153-169 was very useful in learning about Father Fiset's impact on the community.↩