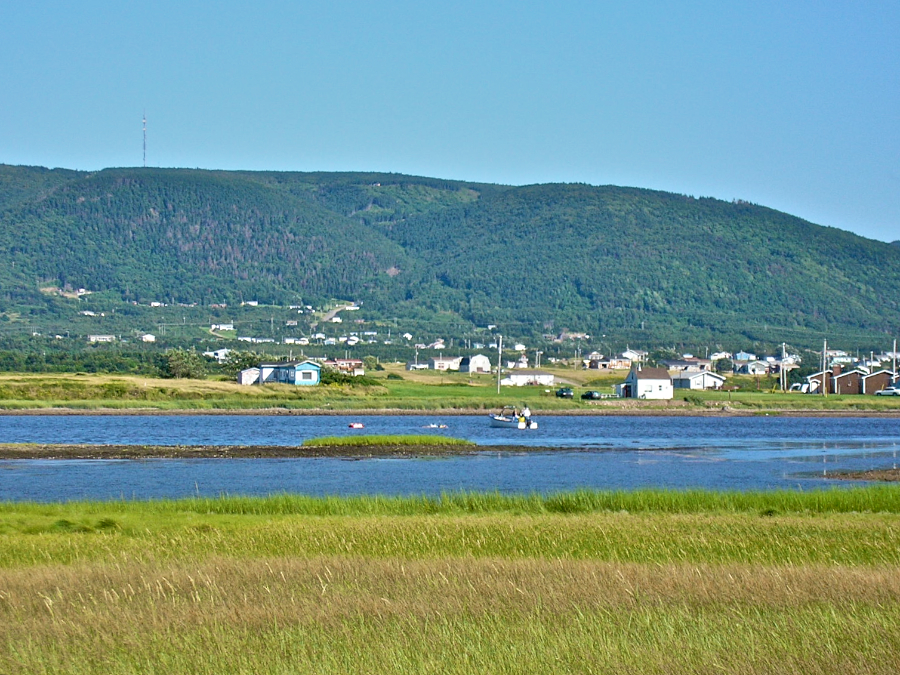 This view from Chéticamp Island looks across Les Bras at the southern end of Chéticamp Harbour to the community of Plateau on Cape Breton Island and to the continuation of the coastal mountain range beyond.
The communications tower seen in the previous photo is again visible here, this time at the left of the photo. Part way up the mountain on which it sits one can see Mountain Road running north to south; this is the road from which the long-range views of Chéticamp Island (photos 11, 12, and 13) were taken.
According to this web site, the area around Chéticamp is one of two in the world (the other is Wreck House, Newfoundland) where suêtes, vicious hurricane-force wind storms, are found. A suête occurs when southeasterly winds get trapped between warmer fronts of air and the surface of the adjacent mountains, forcing them up over and then down under high pressure, an effect rather like putting your thumb over the end of a fast-flowing water hose and causing the water to spray out with force. In the case of a suête, the winds have been clocked at 240 km/h (150 mph). Homes built in this area have to take special precautions to prevent them from being damaged during the suêtes. One therefore often sees houses with slanted roofs to the south-east and with few or no openings to the wind in that direction. Even the Église St-Pierre was not immune: Father Chiasson relates¹ how, some fifteen years after it was built, its steeple was carried off in a suête, tossing its heavy iron cross off into the distance; the steeple is now anchored by four large steel cables attached to the southeast walls of the church.
---
¹ Chéticamp: History and Acadian Traditions by Father Anselme Chiasson (ISBN 1-895415-29-2). p. 10.↩