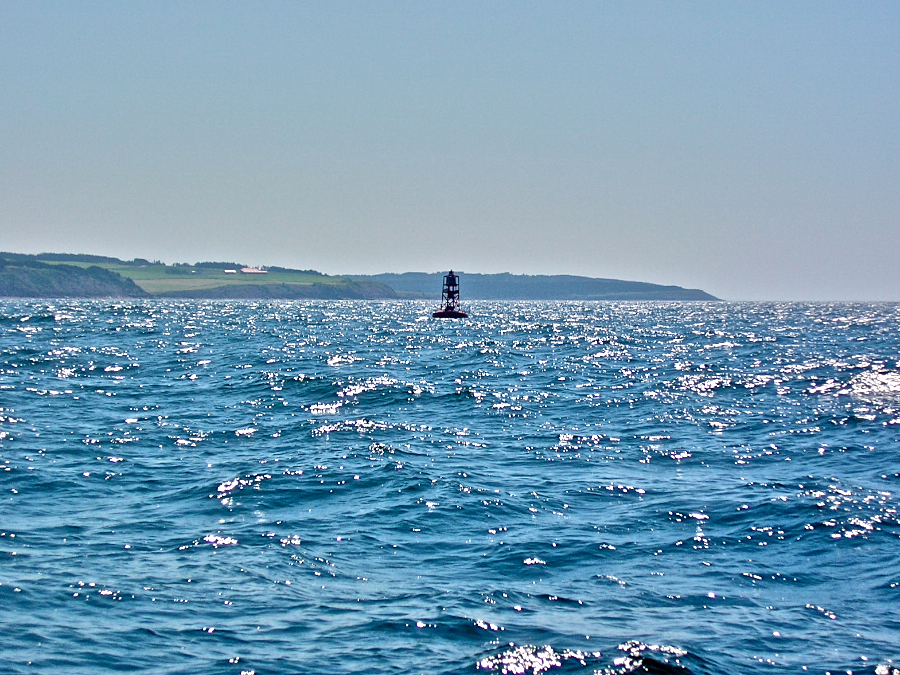 On this lovely August day with a touch of haze in the air, I had the luck to be invited to travel by water from Mabou Coal Mines to Mabou Village to participate in an afternoon party on the water. I, of course, leapt at the chance, as I had not previously seen this stretch of the Inverness County coast along the Gulf of St Lawrence. This red buoy, well off shore, marks the channel into the Mabou River.
This view to the south shows the Colindale shore, which ends in Black Point to the north of Port Hood; behind it lies St Georges Bay, which forms the southwestern shore of Cape Breton Island. Black Point is not visible here: the furthest point seen here is north of Black Point, at the entrance to Sutherlands Cove near Little Mabou. The MacPhees' red barn to the left of the buoy is a landmark to both the boater and the hiker, being visible from a long way away. West Mabou Beach Provincial Park is to the left and outside of this view. As one can see, this coast, like much of the rest of the Inverness County coast, is lined with fairly sheer cliffs, broken by the occasional cove or gully carved by a brook making its way to the sea.
The red buoy is furnished with a clanging bell, readily heard on a foggy day on Green Point or on Mabou Harbour Mountain above Green Point; it is less often heard on West Mabou Beach because the prevailing winds do not usually carry the sound in that direction.