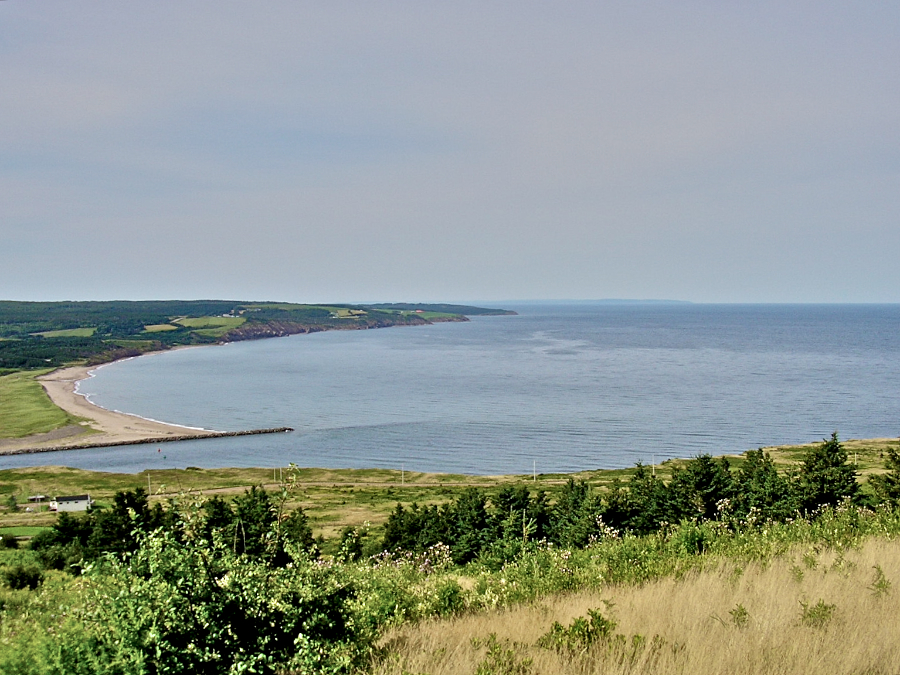 Friends who live on the Green Point Road invited me to walk with them on Mabou Harbour Mountain, from which this shot was taken. It again shows the Colindale shore, but from further inland; the furthest point right of centre is again not Black Point itself, but an unnamed point at the entrance to Sutherlands Cove which hides Black Point (about 2.25 km (1.25 mi) further down the coast) from view here. Cape George, on the mainland of Nova Scotia, can be seen here at the middle right of the photo in the far distance; a portion of St Georges Bay lies to the left of Cape George and the unnamed point. The red barn, though further away in this view, is still visible in the middle of the grassy hillside before Sutherlands Cove. A part of the long breakwater, which lines the river mouth's southern bank, the beach, and the sand dunes lie at the left of the photo, while the cliffs above the beach at its further end from which the previous photo was taken lie at the middle left. A portion of Johnny Bans Pond can also be seen here at the left edge of the photo behind its outlet beneath the trees which colour it a dark green in this light. Green Point is well to the right and outside the scope of this photo.
As seen in the previous photo, its northern shore sits atop cliffs, so the Mabou River is actually a good bit wider at its mouth than it appears here, since those cliffs obscure a considerable portion of the river. The red and green channel markers can be seen in the river at the middle left.
Even though this was not the most picture-perfect of days—the ubiquitous white clouds are reflected on the waters at the mouth of the river—the photo nevertheless captures the magnificent landscape quite well. What a gorgeous place this is!