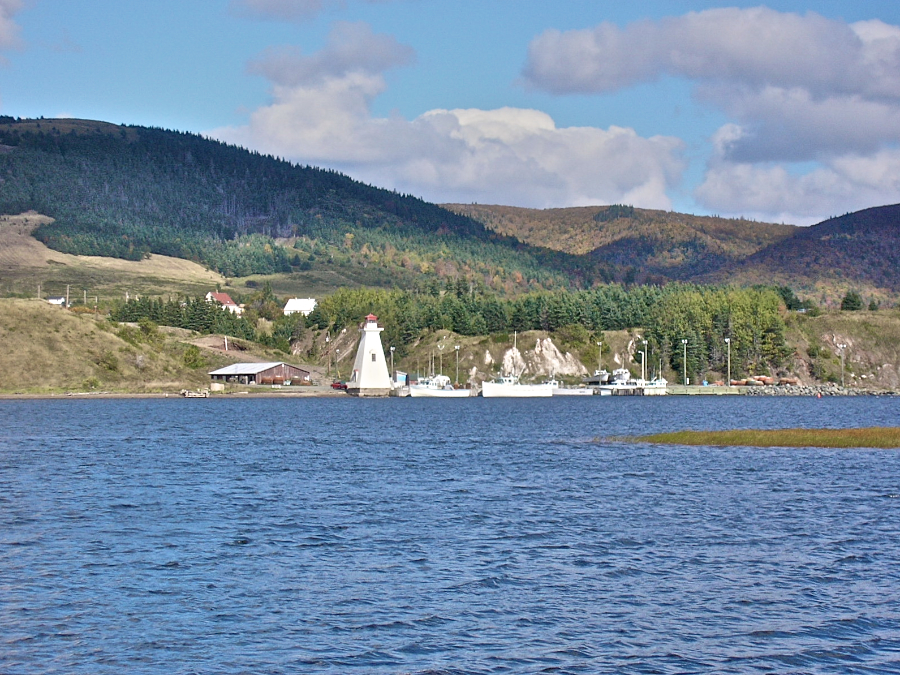 In the West Mabou Beach Provincial Park, the Old Ferry Road Trail follows an old coastal road which many years ago connected Port Hood to a landing on Whale Cove across from the current site of the Mabou Harbour Mouth lighthouse, seen in this photo, where once a lobster cannery was located.
The Old Ferry Road Trail can be reached either by an unnamed trail which starts in the West Mabou Beach Provincial Park's beach parking lot or roughly halfway down the access road which leads to that parking lot where you will see a sign for the trail on your right as you drive in from the Colindale Road. The trail, most of which is through forest and passes near Johnny Bans Pond and Cranberry Pond, is often a bit wet, though this past year the volunteer committee installed some new bridging that helps a lot; still, you would probably do well to wear some waterproof footgear. It takes about twenty minutes to hike from the parking lot to the landing and there is very little climbing involved. It's a lovely walk and, once at the landing, there is a picnic table from which to enjoy the great views. If you are up to more walking, the Acarsaid (Harbour) Trail continues along the riverine shore with grand views of the Mabou River all along its length to the trail's end at MacLeans Point.
The Cape Mabou Highlands, seen here wearing early autumn colours, rise above Mabou Harbour Mouth, the name given to the small community in this area. To the right of the lighthouse are the recently renovated piers, at which some boats are shown tied up.
[2012] In the fall of 2011, the southwestern entrance to the Old Ferry Trail on the beach access road was marked as closed and the route via the unnamed trail from the beach parking area to Johnny Bans Pond required a bushwhack in 2008 to hook up with the Old Ferry Road Trail mid-course (I have not explored this area since then, so it might now be accessible via another means from the beach parking area). The end of the Old Ferry Road Trail shown in this photo is certainly accessible from the upper ("river trails") parking area via the Whale Cove and the Acarsaid (Harbour) Trails.