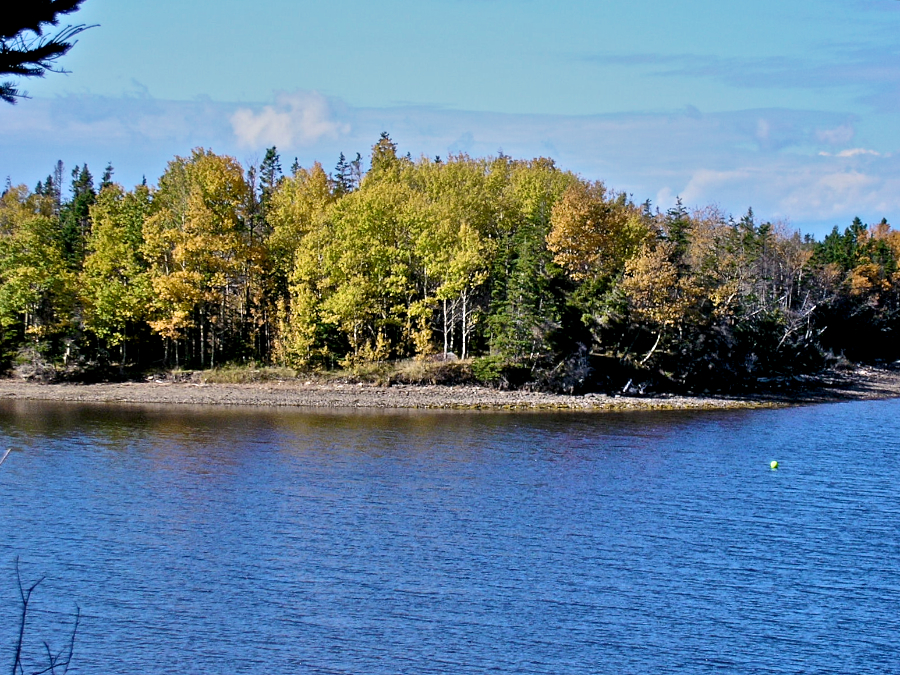 After reaching Sams Point, the Acarsaid (Harbour) Trail skirts Sams Cove, an indentation in the Mabou River coastline formed by the outflow of Mullins Brook.
The fall of 2006 was amazing, with ten perfect days during the time of Celtic Colours, something I had not experienced at previous runs of the festival. The fall colours were somewhat slower to appear, given all the fine weather, and somewhat more subdued when they did. In particular, I did not find the reds in the places where I had found them previous years, though I did find them elsewhere. Here, where the forest is mixed deciduous and evergreen, the colours, even at this advanced date, are still mostly incipient, but none the less beautiful for all that.
The bright object in the water at the right is a float marking what I don't know; it is not a formal navigational aid (the water is too shallow here in any event to need any formal markers), just a private marker, like those used to mark lobster pots during the lobstering season (long over when this photo was taken).