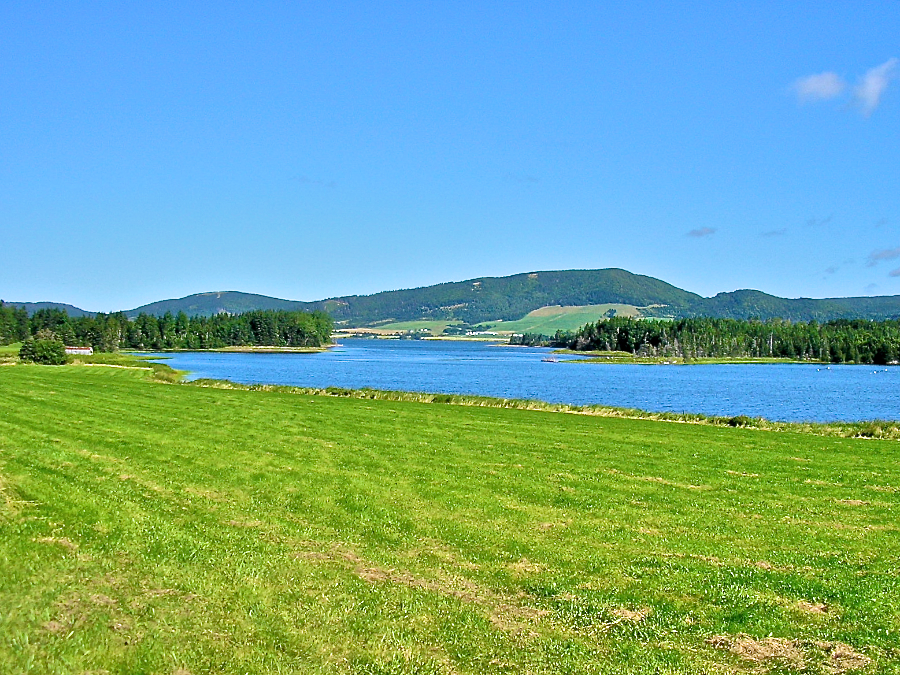 It is always incredibly hard for me to drive by this spot without stopping for a long look on an ordinary day, but completely impossible on a day as beautiful as this one. As I very often pass this way, you will frequently see my car parked here, with me nearby snapping merrily away at this view which, probably more often than any other, I think of first when I hear the words "Mabou River". Admittedly, much of the water seen here is that of the Southwest Mabou River, one of whose mouths is in the center of the photo (the other is behind Nicholsons Island, the land one sees to the right of the building at the far left) and the water at the right is Big Cove, a large bay formed by the Southwest Mabou as it runs into Murphy Point. But the Mabou River proper is visible here too, though only in the middle and far distance in the center of the photo directly below the Cape Mabou Highlands which so glorify this view. This place combines the aforementioned elements of mountain, forest, field, water, and sky into a perfect visual whole that sings "Mabou River" to me louder than any other (though many other views of this beautiful river are in close contention).
The buildings one sees on the northern shore across the Mabou are along Mabou Harbour Road near where the previous photo was taken, though that photo was taken looking downstream, not across.
[2012] With a parking area for hikers on the "Railway Trail", a kiosk with interpretive panels, and a shaded picnic table from which to enjoy its marvellous views, this spot is now even more alluring than ever; do stop and spend a while enjoying the expansive scenery. Sunsets from here are often spectacular, casting gorgeous colours across the entire scene.