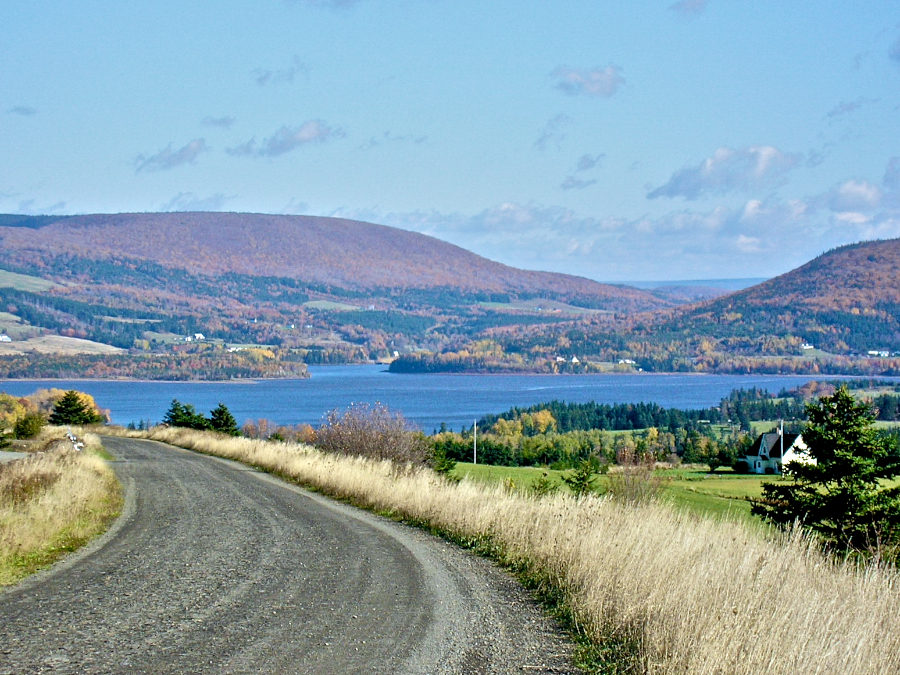 This is another easily accessible glorious look-off, with panoramic views around most of the compass rose; on a clear day from here, one can easily see St Georges Bay as well as the hills round about from Judique way to Mabou and well beyond. Beautiful as the hills are, for me, it is still towards the Southwest Mabou (not visible here) and Mabou Rivers that my eyes eventually turn and, for the most part, remain.
In this fall photo, the view directly across the Mabou River is into Northeast Cove, the outflow of the Northeast Mabou River, which flows generally southwest from beyond Glenora Falls. If one looks very carefully at the end of the cove, one can barely make out the wooden bridge on which Mabou Harbour Road crosses the Northeast Mabou, a good place to look for eagles in the morning, as well as being a beautiful spot in its own right. In summer one often sees a sailboat moored by the shore there. Mabou Mountain rises at the far right of the photo. The mountain at the left and extending into the center is one of the unnamed prominences of the Cape Mabou Highlands, though it's as much the edge of a plateau as a mountain. The course of the Northeast Mabou River can be divined by observing the valley it has carved between the two mountains.
In 2003, the gallery at the Inverness County Centre for the Arts in Inverness featured an exhibition of local artists; one of the paintings there was a large gorgeous canvas very realistically painted by Dianne MacInnis showing a wider-angled form of this view in its summer colours! I was delighted to learn that I am not the only one who treasures the gorgeous scene from Hunters Road and have often wondered what has become of the fine painting.
[2012] After having seen it, I had mentioned this painting to friends, who kindly gave me a print of it from the artist as a Christmas gift some years back. It is on the wall of my computer room where I can look up and get this fantastic view of Cape Breton as I work. It's as gorgeous as I remembered it from when I saw it in Inverness and has become one of my most prized Cape Breton possessions, both for its intrinsic art and as a valued token of friendship.