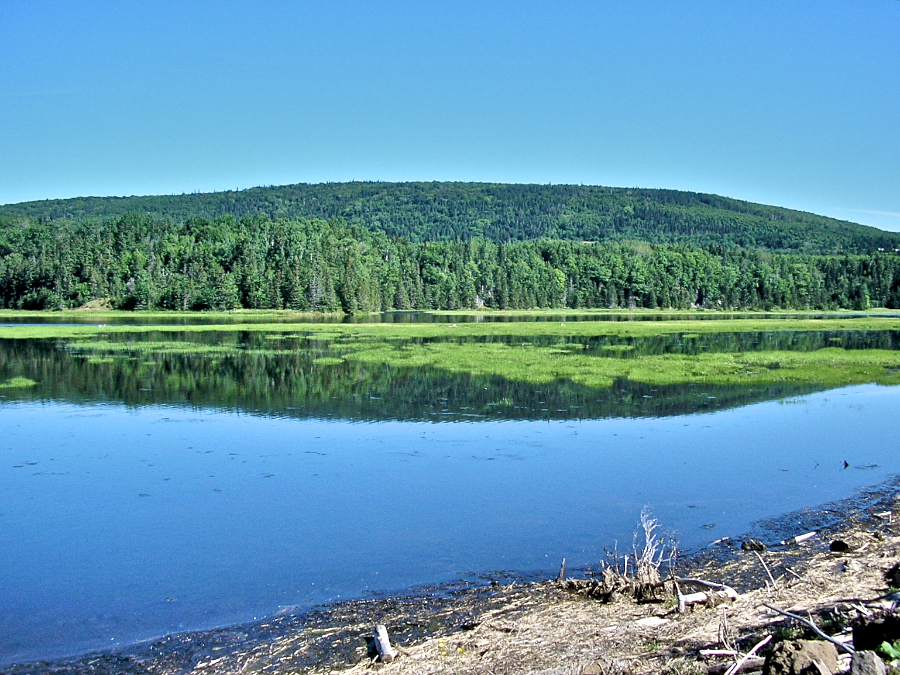 There are five bridges along the Railway Trail between the Cèilidh Trail (Highway 19) and Highway 252 in Glendyer Station. Three of these bridges handle the flows of the rills and brooks from the hills above the Rankinville Road that drain into the Mabou River all along the Railway Trail, often forming ponds and marshes before they merge to flow under the bridges.
The view of the previous photo was taken before reaching the bridge nearest the Cèilidh Trail. This one was taken some way beyond that bridge, but before reaching the second one.
Shortly before the first bridge, the river bends and the main channel starts splitting into several subchannels, which wind sinuously around patches of marsh grass that have accumulated enough silt to form islands. In this photo, the main channel is on the north (further) side, but one can see the beginnings of the meandering channels, which will become more and more anarchic as one proceeds upstream.
Mabou Mountain rises to the west of the Cèilidh Trail, which climbs up its flank (only visible at a couple of points midway up the mountain from this vantage point). On this gorgeous clear day, its reflection in the slow-flowing river is stunning.