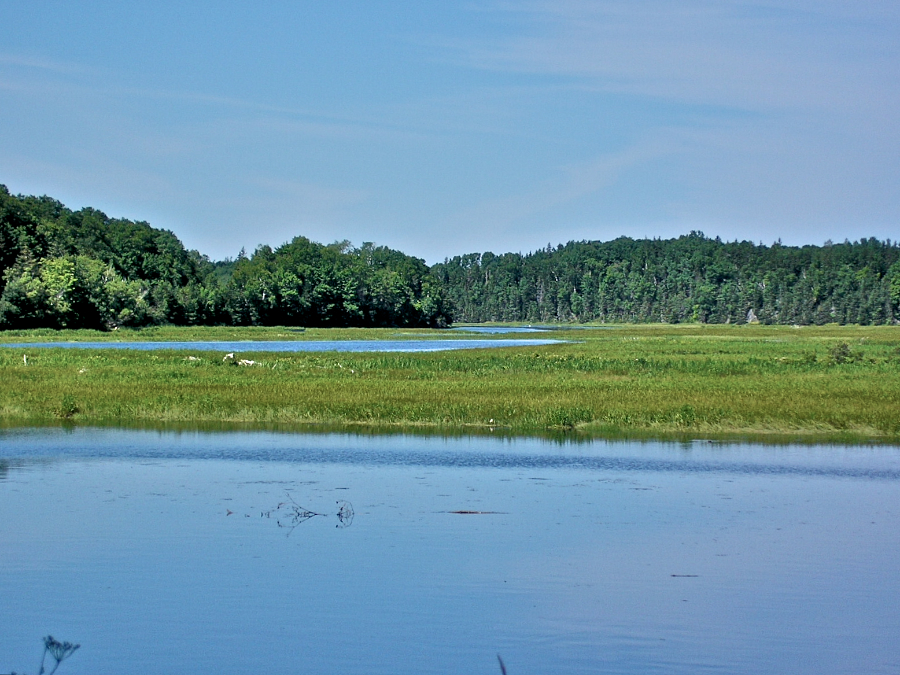 Taken about halfway between the second and third bridges (counting from the Cèilidh Trail (Highway 19)), this photo shows some of the meanders of the Mabou River.
Not far upstream from this point, Highway 252 comes down from Mabou Mountain and turns sharply at the bottom of the hill where it follows the Mabou River to Glendyer Station, first northeastward and then eastward after the river bends. Highway 252 offers fine vantage points of the river's main channel.
The Railway Trail, on the southern bank, follows along the lesser channels. The main course of the river remains along the northern bank (next to the trees at the right of this photo) though at this point it is little wider than the subsidiary channels one sees here. Although they do not stand out in this photo, channels criss-cross the grassy island masses at the right.
After a heavy rain, the water becomes so full of silt that its colour turns very reddish-brown; this can be seen particularly well at such times at the fourth (steel) bridge, close by Glendyer Station. The marshes here then serve to filter much of that silt out of the water, adding more bulk to the islands and leaving cleaner, purer water to pass on down the remainder of the river. This area, another of the many glories of this beautiful river, is very different in character from the other areas of the river, but no less beautiful in its own way. Its quiet beauty and abundant wildlife attract many to hike the Railway Trail in this area.