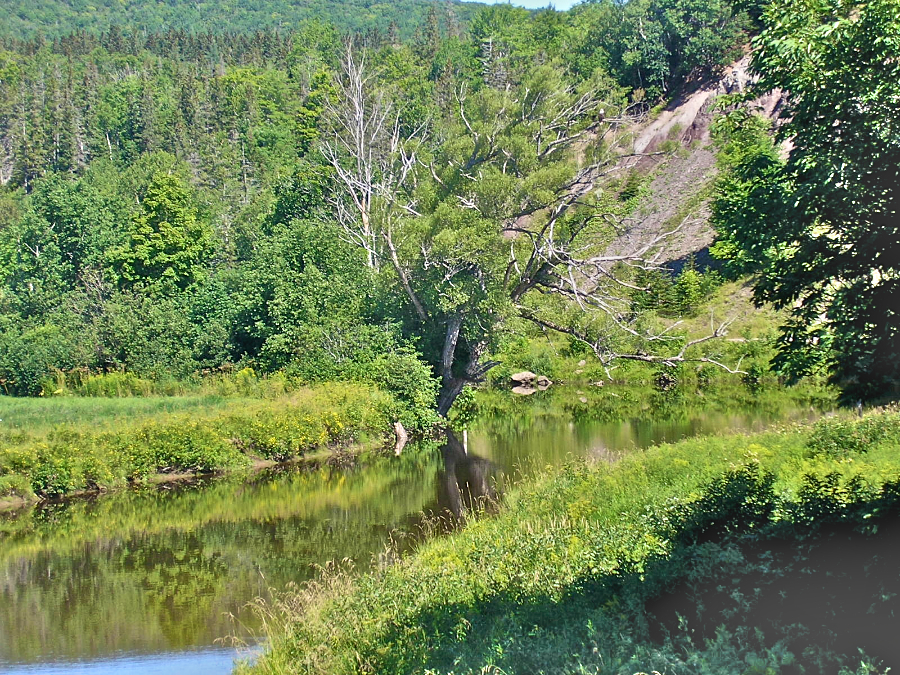 At Glendyer Station, where Glendyer Brook enters the Mabou River, the Mabou has changed character yet again and is no longer very wide. This view looking downstream is from the fourth bridge (counting from the Cèilidh Trail (Highway 252)) on the Railway Trail, close to Glendyer Station; unlike the other four, which are wooden, this one is a steel bridge, similar in design to the one across the Southwest Mabou River much further down the Railway Trail.
The gravel bank partially hidden by the tree at the far right of the photo sits along Highway 252, which can be seen at the foot of the bank a couple of metres/yards above the water level.
The tree in the centre of the photo is a favourite of eagles and there was one in it this day. I will leave it to you to pick him out (hint: look for the white head).
On one occasion in late spring when I was here, a family of three was in the area, teaching its fledgling how to fly on the air currents. I wasn't very successful in getting good pictures because the trees were in the way and they often soared over Mabou Mountain out of view, but I had an enjoyable time trying while watching what I could see of the training from this bridge.
When it is not laden with silt, one can also often see fish in the water below the bridge; I once came upon a fisherman at the bridge who said that they were gaspereaux, a species of alewife (a fish of the herring family that swims upriver to spawn).