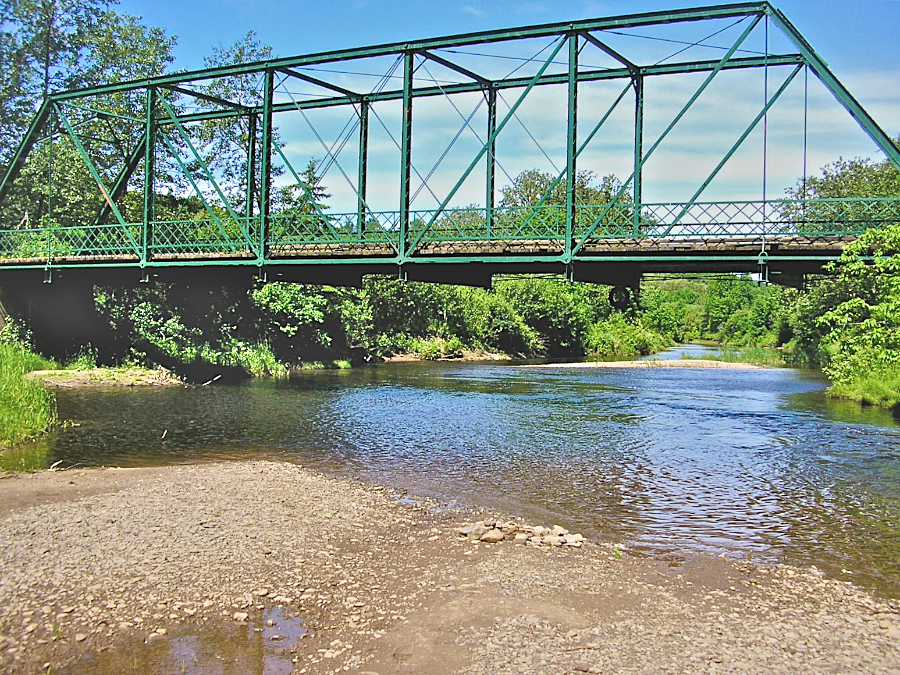 The Rankinville Road ends at the Mull River Road just a short distance southwest of Murrays Bridge, seen in the photo above. This crossing has been in continuous use from the very early pioneer days. The (gravel) Mull River Road continues northeast from its junction with the Rankinville Road, crosses this bridge, and climbs a very steep hill to the right of this photo (outside its scope) to end on Route 252 in Hillsborough. The road up that hill is often rutted after pounding rains and requires caution, in a car at least, but is usually quite passable.
This view downstream was taken from a gravel bar that the river has thrown up; this spot is a local favourite for picnics and swimming in high summer. If you look closely, you will see a rubber tire with a coil of rope hanging from the middle right of the bridge; once the water has warmed up, the coil is let down and this tire is suspended close to the surface of the river, where it is then used as a swing. Ah, the simple pleasures of a summer in the country!
[2012] I am very sorry to report that this graceful and beautiful bridge, memories of which are lodged in many hearts,¹ no longer exists. A very severe storm in 2008 resulted in such high water levels that the bridge's abutments, especially the one on the north side of the river, suffered terminal damage from the rushing waves and waters, rendering the bridge unsafe for use. It was closed to traffic and then subsequently torn down and carted away. In the second half of 2011, the abutments were rebuilt and a replacement bridge was put in its place; it was opened again to traffic in early 2012. It is not, of course, a bridge of the classic design shown above; I have not yet seen it with my own eyes, but I understand it to be a utilitarian Bailey bridge.
---
¹ A correspondent wrote me in mid-2011: "This is where I learned to swim. My uncles and their friends would jump from the very top when I was young. I have so many good memories from this spot. I was very sad when a storm destroyed the bridge a few years ago. It still hasn't been rebuilt. Hopefully it will be. My grandfather swam there as a child." I have heard similar recollections from many others in conversations over the years.↩