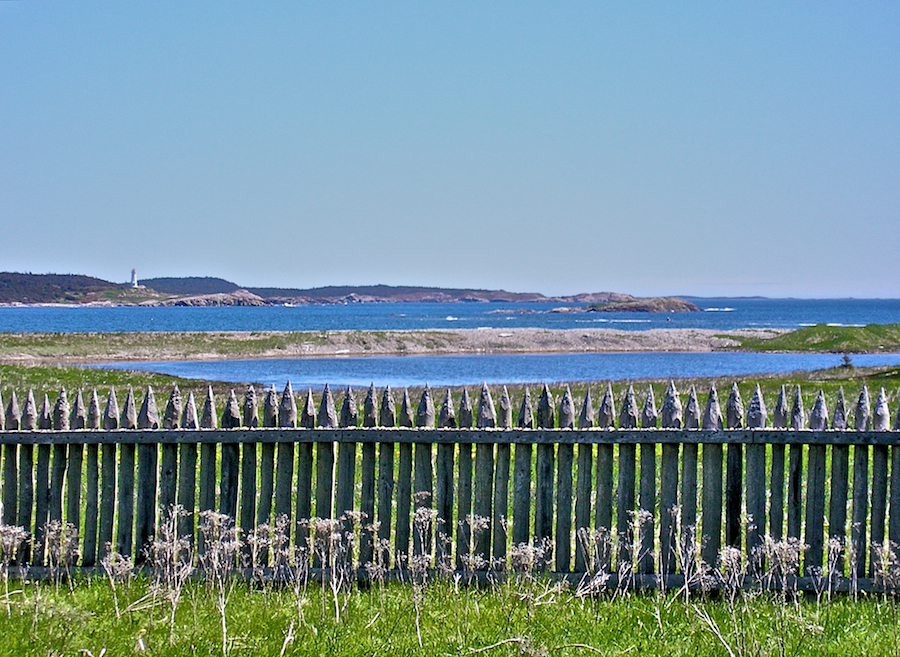 This was my fifth visit to Fortress Louisbourg, a partial restoration of the Fortress built by the French and destroyed by the British after taking it during the Seven Years War, described here. It was my first visit under the pure blue sky one sees in this photo; previous visits were foggy, cloudy, or at best partially sunny and did not offer the spectacularly clear views that this day so splendidly provided in abundance. (The following morning reverted to form, with a gentle rain falling when I awoke.)
About a fifth of the original Fortress has been restored to its state in 1744; the remainder lies in ruins covered by grass, providing a massive archæological time capsule, in the words of the Parks Canada flier and map provided to all visitors to the Fortress. A road along the south side of Louisbourg Harbour leads through those ruins to the Atlantic Coast, from which this photo to the east was taken.
The lighthouse at the left of the photo is the current successor to a series of lighthouses on its site, the original of which, finished in 1734, was the second lighthouse to be built in North America and the first to be built in Canada (see here, here, and here for more information about this historic lighthouse). The point on which the lighthouse sits can be reached by a well-signed road at the east end of the village of Louisbourg; enhanced by interpretive panels, it is definitely worth a visit, offering fine views of the Fortress, the harbour, and of the coast (at least on a clear day like this one).
I am not sure what the point of land on the far horizon at the right might be; it is possibly the promontory one sees in the Baleine Head photo or it might be even further down the coast; however, it does not appear likely that it would be the elusive Cape Breton, which would be hidden behind Hummocky Point from this vantage point.