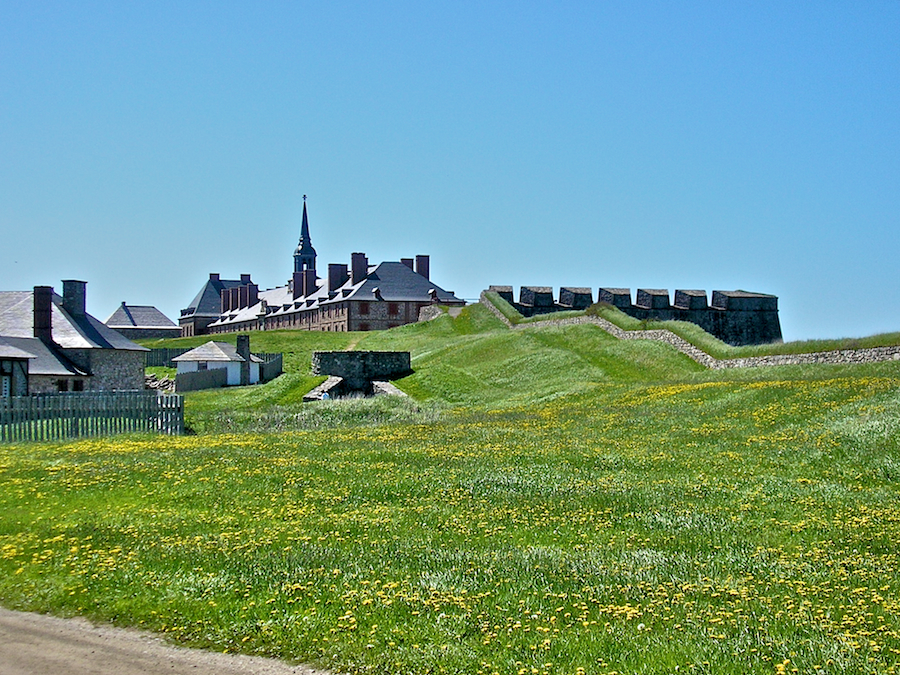 The dictionary tells us that a fortress is a military stronghold, especially in the form of a fortified town fit for a large garrison and it therefore includes commercial and residential buildings as well as defensive works and buildings with a military purpose. At Louisbourg Fortress, the restored military and administrative buildings are all surmounted with a fleur-de-lis to show their royal ownership. This is also true of the King's Bastion, the dominant building on the site, housing the Governor's and Officers' quarters, a chapel (which became the fortress town's parish church), and barracks for the common soldiers. Surrounded by defensive works at the crest of a hill and surmounted by a steeple, it draws one's eyes from every point in the Fortress and from all around for a considerable distance. Cannon are found along the crenelated wall at the right of the photo.
The costumed interpreters in Fortress Louisbourg add a great deal to the experience: an Acadian fiddler who "plays tunes for wine"; the bakers who make and sell bread just as they did when French soldiers garrisoned the fortress; the blacksmith who does work on the side and teaches apprentices to make money after performing the duties for which the king pays him; the soldiers on parade; the gardeners; the children running errands; the ducks and roosters and pigs and sheep found throughout the Fortress: all brought this place to life for me. I was especially taken on this visit with the guide on the walking tour, who was enthusiastic and deeply knowledgeable about the site and its history; her commentary, illustrations, and anecdotes presented the French colonial experience in a new and vivid light for me. The artefacts, exhibits, and interpretive panels on view throughout the site are very well done: they convey the significance of what one is looking at and impart a good sense of what life was like here more than 250 years ago. The introductory displays in the Vistors' Centre, which, alas, one is tempted to hurry through to catch the bus to the Fortress, are worth spending the time to view closely, as they provide an initial orientation that proves valuable when one arrives at the Fortress itself. This Parks Canada site is clearly a superbly worthwhile place to visit, both because of its historic significance but also because of its natural beauty, especially reïnforced on a spectacular day such as this one!
The beautiful chapel below the steeple in the centre of the bastion is the site of a very popular Celtic Colours concert that begins with a candle-lit meal in one of the period restaurants in the Fortress; this concert always sells out within a day or two of the tickets going on sale and 2007 is no exception—unless you're one of the lucky ticket holders, you'll have to wait until next year!