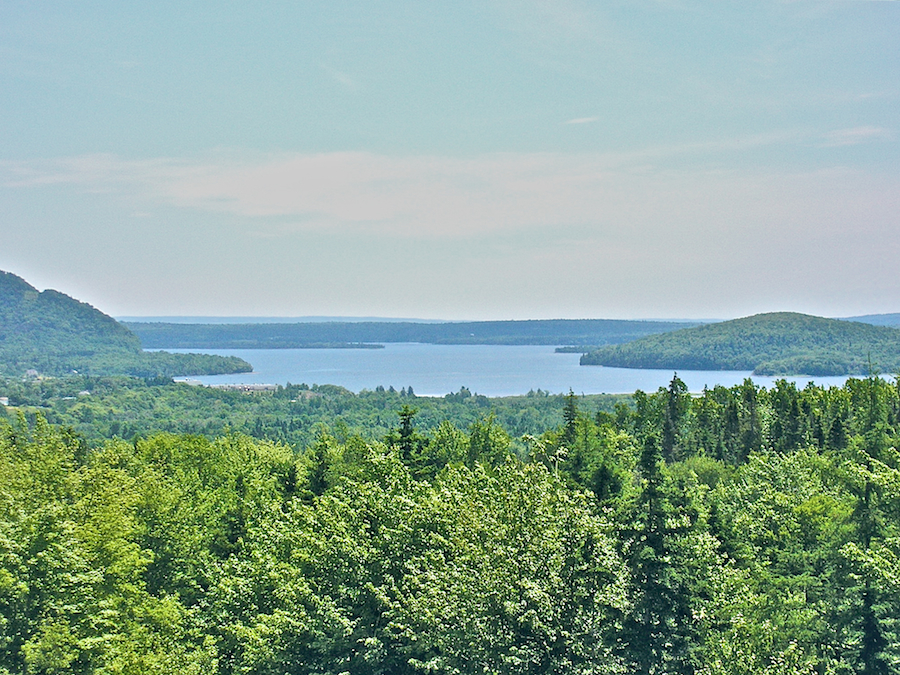 This and the following photos move from the Atlantic coast to the internal shores of the Bras d'Or Lakes system.
I had not previously known of this vantage point, so this beautiful view came as a pleasant surprise while I was unsuccessfully trying to locate Campbells Mountain Road west of Churchview back of Whycocomagh. To reach the point from which this photo was taken, turn onto Whycocomagh Road at its junction with Highway 252, take the first right (at the cemetery) and then the next left up the hill towards the quarry; when you reach the gate into the quarry, you will see three roads, the centre one of which passes the edge of the quarry and ends a short distance above it; walk it to its end and you will see this fine panorama as you turn around to walk back.
Salt Mountain is at the far left of the photo, easily identified because of the power line that cuts a swath across its side. MacInnis Island is the long narrow island at the left of the photo that runs nearly to its centre. Indian Island is the pyramid-shaped island that peaks in the large hill at the right of the photo. The land running across the photo in the middle ground behind MacInnis Island and Indian Island is part of Cape Breton Island itself, an isthmus sandwiched between Whycocomagh Bay and St Patricks Channel on the north and the River Denys Flowage and the Bras d'Or Lake on the south; it narrows significantly near Estmere before widening again into the beautiful Washabuck Peninsula. At the left of the photo, one can see beyond the isthmus on the horizon a thin line of lighter blue above which is a thicker, darker line of blue; the lighter blue is the Bras d'Or Lake and the darker blue is hills on the far side of the lake. Of course the views are further-reaching from the top of Salt Mountain because they are much higher up and one has a much wider angle of view there, but this site is much easier to reach (nearly all of it can be done by car) and still offers a very fine vista indeed.
[2012] Thanks to help from Alasdair MacGillean, in 2008, I located Campbells Mountain Road, as described (with photos) here. It also has fine vantage points of Whycocomagh Bay like the one seen here.