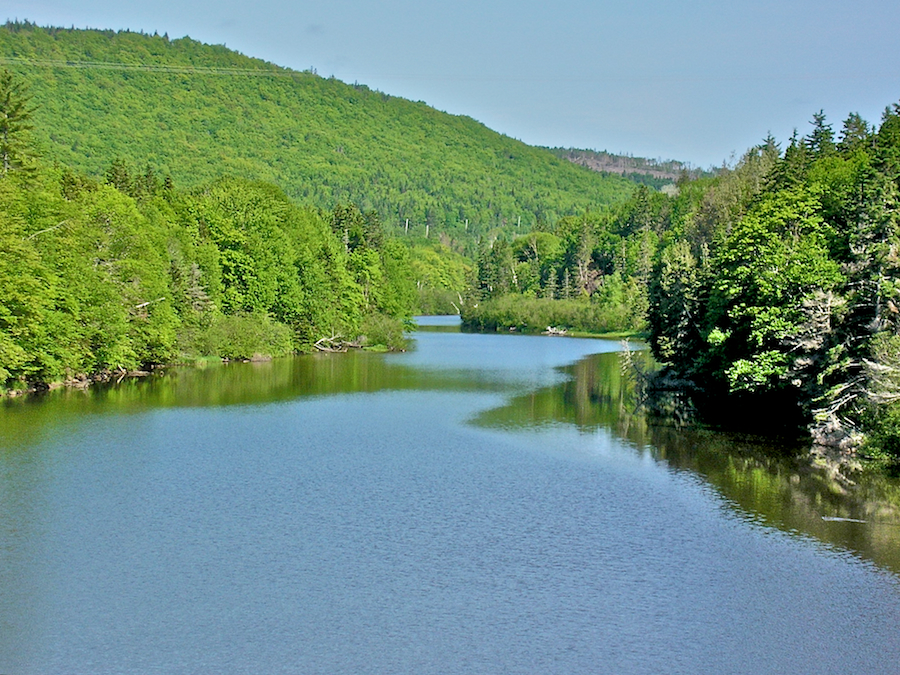 The Trans-Canada Highway (Highway 105) in Cape Breton is a beautiful route along its entire length, offering many stunningly gorgeous views. But, especially in the summer time, it is often a very busy route along which one cannot lallygag without seriously endangering oneself (the posted speed limit is usually 100 kmh (62 mph)) and inconveniencing other travellers. Since there are only a handful of look-offs, the tendency is to buzz past the beautiful places through which it passes without pulling off the highway and getting out of the car to enjoy them. I am as guilty as anyone of doing so—it has taken me seven years to get this fine view into my photo collection! I have resolved this year to stop at as many of the places I have previously passed by as possible. This beautiful scene shows full well what I have heretofore missed.
Middle River has multiple sources in the unpopulated lands north of the Middle River Wilderness Area and to the east of Northeast Margaree. It flows generally south, passing under the Cabot Trail halfway between the Third Lake O'Law and the community of Upper Middle River and emptying into Nyanza Bay (a part of the Bras d'Or Lakes system) just east of Wagmatcook. I do not know the name of the mountain which rises to the left; it is unnamed in the maps I have.
On the other side of the bridge, one sees the two mouths of Middle River and Nyanza Bay just beyond; I did not previously have these fine views in my collection either, but I do now! They will certainly show up in a future essay as this is a beautiful place well worth a stop.