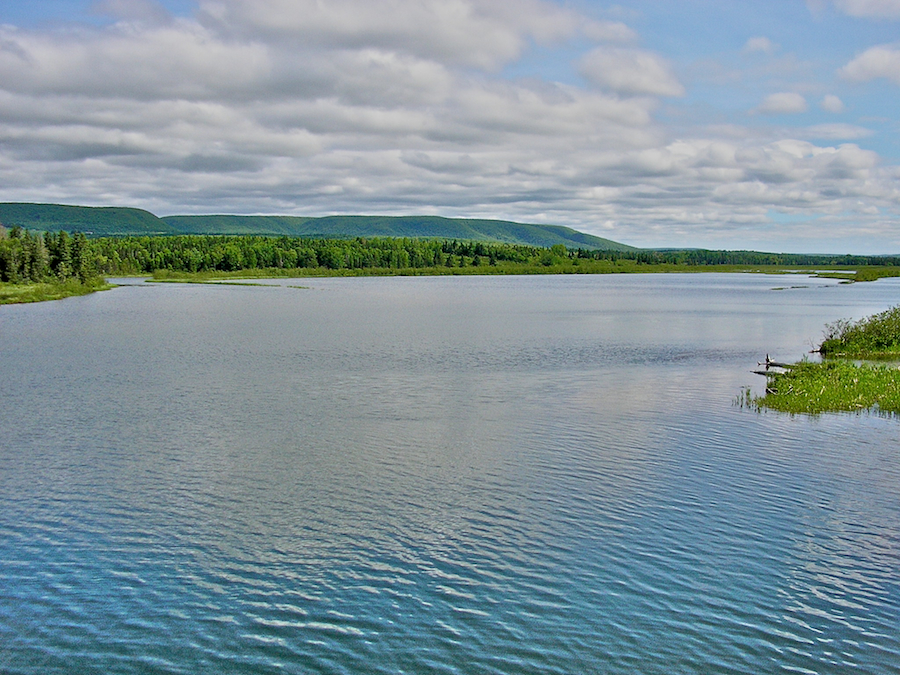 This photo was taken on the same day as the previous one and only an hour and eleven minutes later (I stopped at the Herring Choker for breakfast and took another fifty photos at various points along the 4.3 km (2.7 mi) separating the Middle River bridge from the Baddeck River bridge). In this short time, the clear blue sky one saw over Middle River has now become considerably occluded with clouds, which are reflected in what would otherwise be bright blue water. Still, the great beauty of this vista cannot be gainsaid even if it is not wearing its most brilliant garb.
The Baddeck River rises in Trout Lake and flows generally southwest. At Forks Baddeck, the Baddeck River meets the North Branch Baddeck River. The Uisge Bàn Falls Provincial Park is along this latter river, which offers a quite easy walking trail to the wild and gorgeous Uisge Bàn (White Water) Falls on Falls Brook and other equally easy trails along the North Branch Baddeck River, into which Falls Brook flows. From Forks Baddeck, the combined rivers flow into Nyanza Bay just beyond the Trans-Canada Highway (Highway 105) bridge, where the views are as gorgeous as those at the Middle River's mouth.
Hunters Mountain, over which the Cabot Trail passes on its way north to the Gulf of St Lawrence, is the mountain one sees at the far left of the photo; MacMillan and Crowdis Mountains are to its right and extend well past the centre of the photo. All are the sides of the Cape Breton Highlands plateau. The main course of the Baddeck River is at the far right of this photo; the mouth one sees at the left is the outflow from Cains Pond.