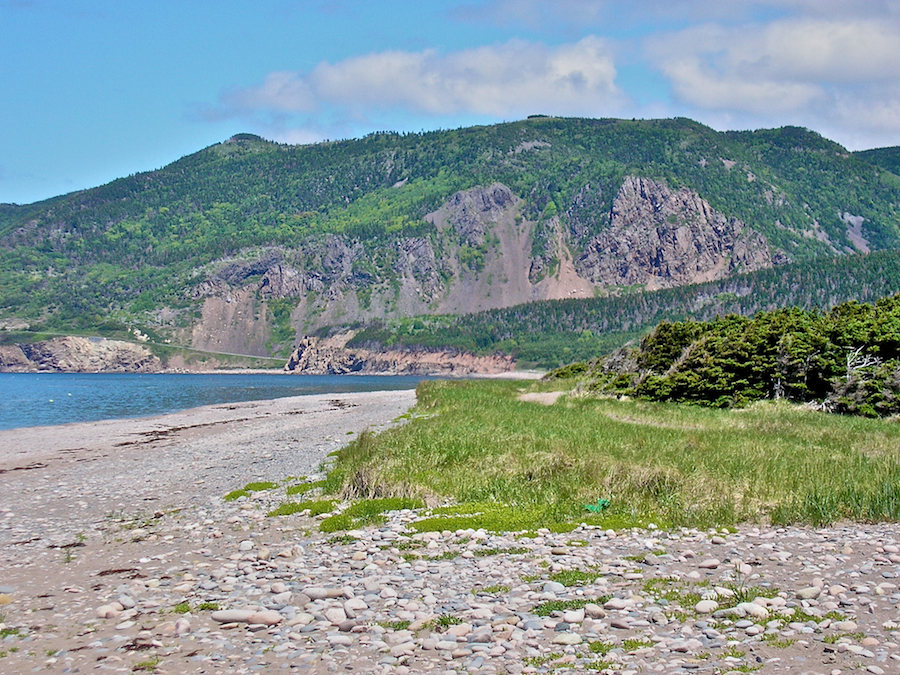 This and the following photos move from inland Cape Breton Island to the western coastal area (Inverness County).
La Grande Falaise (The Great Cliff), which is roughly 2 km (1.25 mi) away from where I was standing when I took this photo, dominates this view from the beach at the end of le Chemin LaPointe (the road that passes by the delectable Boulangerie AuCoin in Petit-Étang), just as it does many other views in the Chéticamp area—its height and distinctive form make it visible for quite some distance down the coast. The Cabot Trail can be seen as a diagonal incline at the left of the photo just above the Gulf of St Lawrence. Le Buttereau is the slanting hill which obscures the lower part of La Grande Falaise rising from the middle of the photo to its right. The Chéticamp River enters the Gulf of St Lawrence below Le Buttereau through a narrow channel with swift currents that crosses the beach (not visible in this photo).
The hiking trail known as l'Acadien (The Acadian), which I have not yet attempted, but intend to do this summer, starts at the Cape Breton Highlands National Park's Visitors' Centre and climbs above la Grande Falaise; it is said to offer splendid panoramic views of the area and one can see why it would!
Le Chemin du Buttereau is a fairly easy trail with only very moderate climbing that runs along le Buttereau; I have done this hike a number of times and enjoy especially the interpretive panels describing the early settlers in the area and the fine views when the trail reaches the Gulf of St Lawrence.
A previous essay in this series discusses the beautiful Chéticamp region and provides additional views of it.
[2012] I hiked l'Acadien Trail on 2007 August 2. It was a hard climb for me and a longish hike (8.4 km (5.2 mi) for the loop), but the views along the way repaid the effort with compound interest! Although it wasn't the best of days, the vistas were fantastic, including that of this area lying far below!