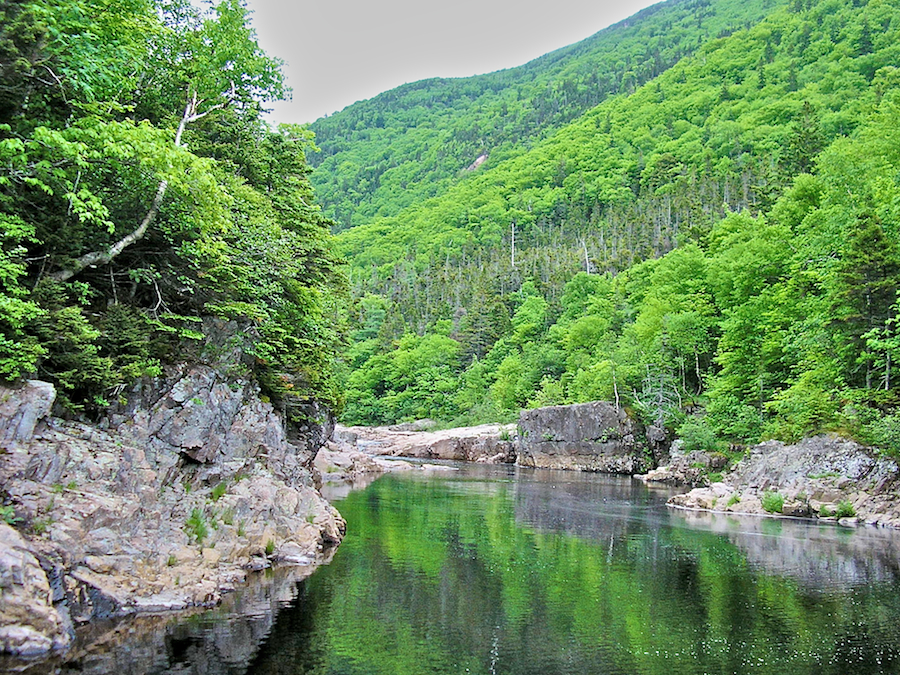 While hiking in the Cape Mabou Highlands, I somehow managed to drop the small Marble Memo notebook in which I had written my notes for this hike. I went back to search for it, but did not see where I had lost it. So I cannot precisely say where this photo was taken, but from the times of the other photos I took that day, I am pretty sure this is at the First Pool looking upstream.
Les Trous de saumons (Salmon Pools) Trail begins near a campground at the Cape Breton Highlands National Park's Visitors' Centre outside Chéticamp and follows the Chéticamp River inland. With the proper license, you can fish for salmon in the river using tied flies only, or, as I did, you can just enjoy the tremendous views at several points along the river. The trail is a relatively easy hike: there is only a small amount of uphill hiking, but the grade is moderate, not steep, and no climb exceeds 100 m (328 ft); it was still enough to make me stop to catch my breath a few times. Much of the first part of the trail is inland of the river, passing through mixed forest and stands of hardwood, but along the way there are spectacular views of the gorges through which the river flows. After proceeding far enough inland, the river forms numerous cascades as it cuts through a canyon, creating pools that are both dark and deep (some reach 10m (30 ft)) where salmon prepare to leap the cascades on their way to spawn. One of those pools is visible here in the foreground of this photo.
The day's weather was not the best, but the low hanging clouds that obscured the tops of the some of the mountains added beauty to the scene nonetheless. Since I started late, in order to make a concert that night at Southwest Margaree, I had to turn around before reaching the end of the trail. I'll certainly be back this summer for the full trek; it's a place of compelling beauty which has taken me far too long to discover.
[2012] I hiked this trail again on 2007 July 27, in very fine weather indeed. Numerous photos from that hike are available in my detailed trail description. I highly recommend this beautiful hike! And, from my notes of that second hike, I can now confirm that the view in the photo here is indeed of the First Pool.