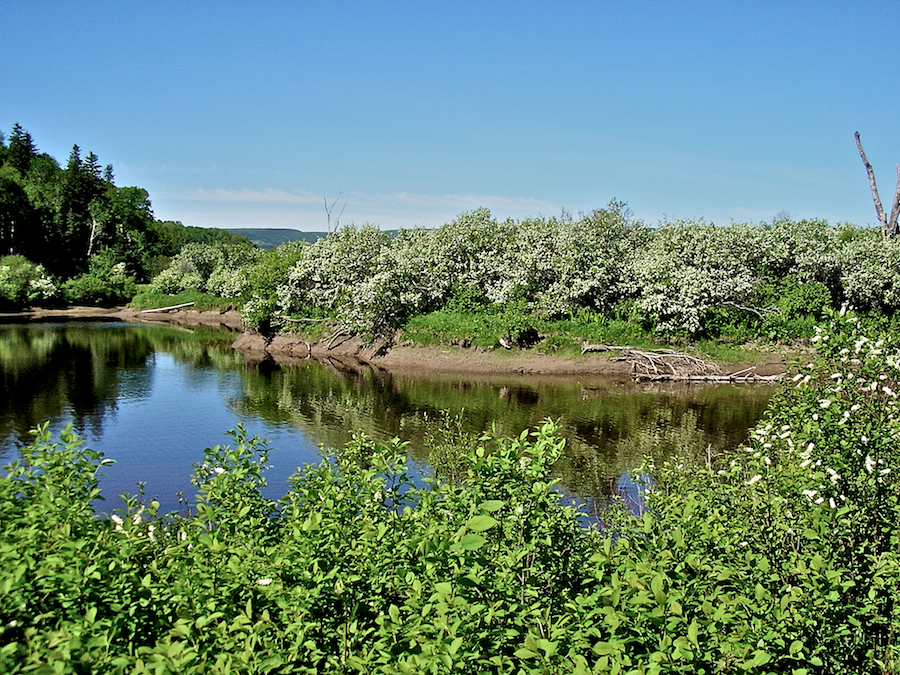 The next photos move inland from the Inverness coast, covering some of the beautiful places in the back country quadrilateral defined by Mabou, Whycocomagh, Judique, and Port Hood, which has Glencoe Mills near its centre.
Regular readers of this series will know that, having spent many an enjoyable hour along its banks, I dote on the Southwest Mabou River and have consecrated an entire photo essay just to it. This trip, I again spent a fair amount of time soaking in its diverse but always tranquil beauties.
Due to the previously mentioned loss of the small Marble Memo notebook, I am not exactly sure where this photo was taken, but based on the (many) other photos I took that day, it is not more than a half hour downriver from the steel bridge over the Southwest Mabou (and probably considerably less, since I stopped to take twenty-three photos between the bridge and this spot).
Because spring was very late arriving on Cape Breton Island this year (the last killing frost in the Margarees occurred shortly before I arrived), the flora was very different from what I had seen in previous Junes on Cape Breton Island. In particular, I was greatly taken with the nearly continuous line of trees (crab apples and choke cherries, I was told) covered with bright white flowers that bordered the river's banks, as one can see in this view. These trees, which were always clad in green on those previous June trips, stood out and added their spring finery to the beauty of the river. Along the way, there were many other early blooming wildflowers I had not previously seen along this gorgeous trail.