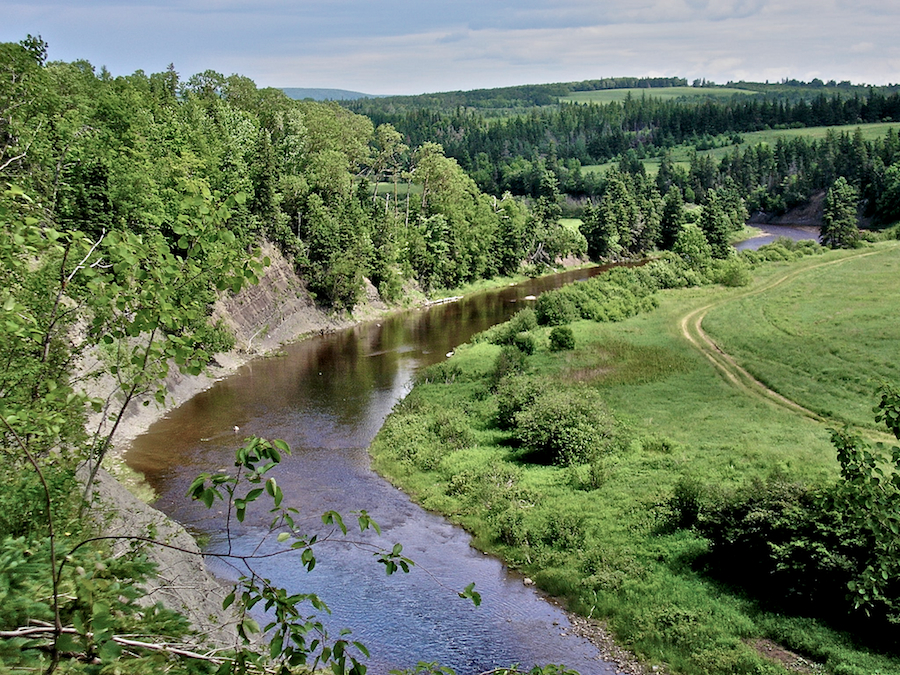 This superb scene was completely unexpected when I came upon it while refreshing my memory of the segment of the Railway Trail that starts at Southwest Mabou and continues on to Glencoe Station, twice crossing Mabou Road. The previous time I had walked this stretch of the Railway Trail, I passed by this view completely oblivious to its existence. Thanks to the trimming and cutting along the length of the Railway Trail that has been done this spring, it was impossible to miss this time.
If you take Mabou Road south from its junction with the Cèilidh Trail (Highway 19) in Southwest Mabou, about 1 km (0.6 mi) down the road toward Glencoe Station you will find where the Railway Trail first crosses Mabou Road (look for a snowmobile crossing sign as an indication that you are close or, failing that, small stop signs on either side of the crossing). This beautiful vista is only a short five minute level walk to the east from this crossing. When you arrive here, use caution, as the drop off is sheer and quite close to the trail. As you can tell from the height of the trees in the photo, it's a long way down! The view in the other direction from this cliff is also very fine, but I found it impossible to capture both views in the same photo.
Based on its profile, the mountain rising in the centre left of the photo is, I think, the same mountain west of the Northeast Mabou River that one sees in this view from Hunters Road.
[2012] The Railway Trail crossings are now much more clearly marked; see this article for the changed signage. The Mabou Road crossing of interest is the one at 2027/2028 Mabou Road.