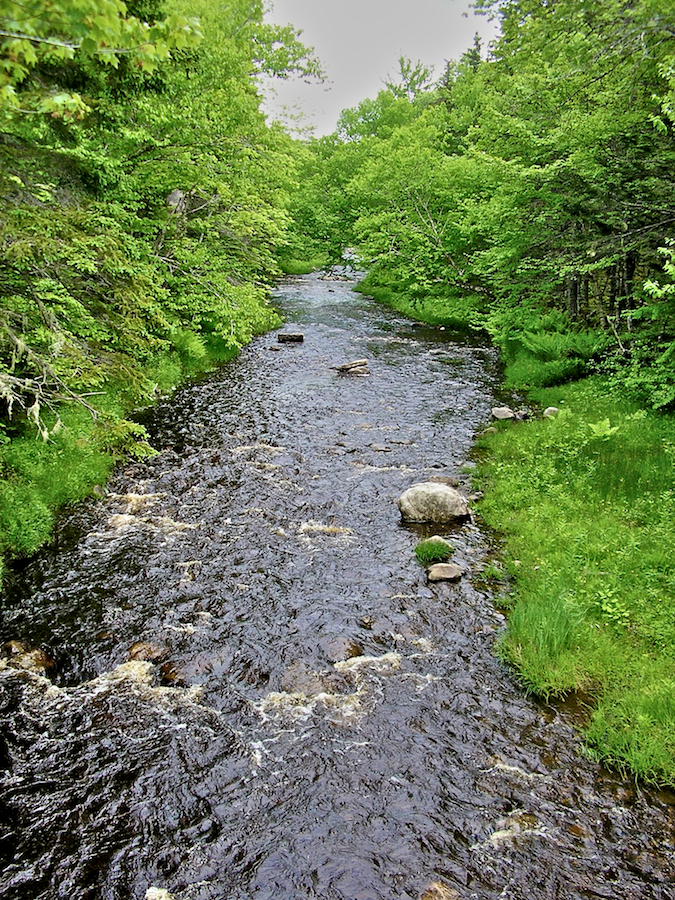 Campbell Road is found along the Cèilidh Trail (Highway 19) about 4.5 km (2.8 mi) south of the River Denys Road in Judique (I don't have the exact distance in my notes). Since I was way early for the Sunday cèilidh at the Celtic Music Interpretive Centre in Judique, I decided to explore this road, my first time here. I drove in 4.5 km (2.8 mi), where I found the road forward very dubious for a car and had to back down the hill I had started up to find a suitable turn-around place. The map shows this road continuing on to intersect with the River Denys Road at Rear Judique South, but I did not have enough time to explore it further on foot.
Shortly before I turned around, I crossed a bridge from which I took photos of the Graham River, a fast-flowing, noisy stream that was beautiful in both directions. The Graham River begins on the side of River Denys Mountain and enters St Georges Bay at Graham Point between Judique and Judique South.
The next time I come here, I will be sure I have enough time to hike up to River Denys Road. Who knows what other beautiful places I will find along the way?