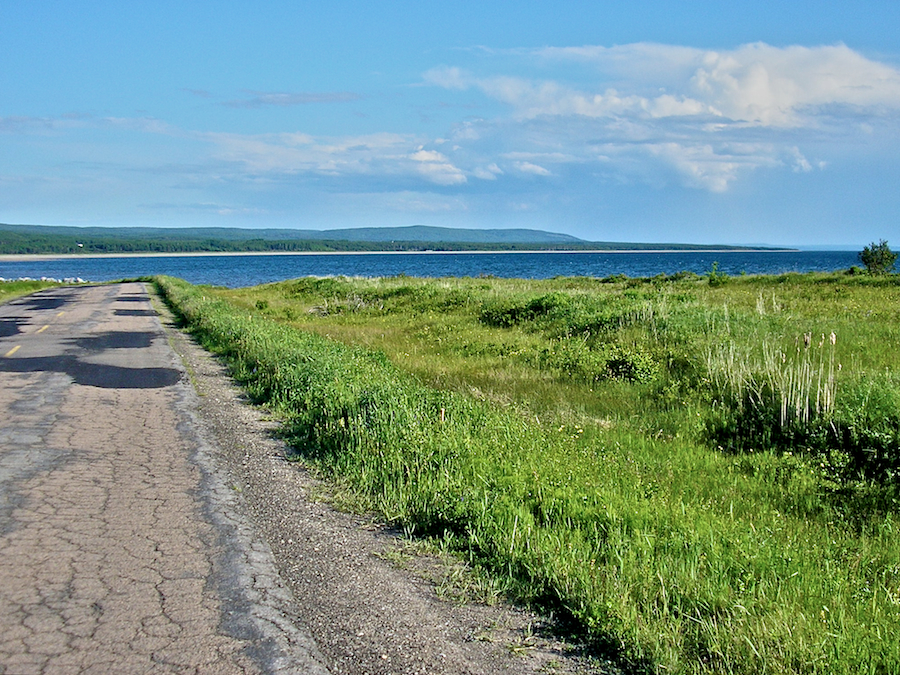 The next few photos return from the back country to the Inverness County coast.
The Shore Road connects Harbourview south of Port Hood to Judique North, offering a more picturesque coastal route than the Cèilidh Trail (Highway 19), whose route, while pretty, is some distance inland from the coast. As can be seen here, the Shore Road's paved surface is both rough and heavily patched, but the new posts almost hidden in the grass along the side of the road attest that some improvement to its condition is currently being contemplated for the near future.
I again don't have exact measurements, but this photo was taken roughly 2 km (1.25 mi) from the Shore Road's junction with the Cèilidh Trail in Judique North.
The mountain in the centre right of the photo is Creignish Mountain; the village of Creignish lies at its foot. The Creignish Hills can be seen rising above the land at the coast running from Creignish Mountain to the far left of the photo. Mainland Nova Scotia can be seen as a darker blue strip of colour below the sky and above the water at the far right of the photo. Across the inlet of St Georges Bay in the middle ground, the Railway Trail parallels the coast one sees here, just inland of the beautiful white sand beach running out to Graham Point at the right of the photo. McKays Point is on this side of the inlet at the far right, outside the scope of this photo.
[2012] The Shore Road was repaved, greatly improving its surface, not long after this essay was originally written.