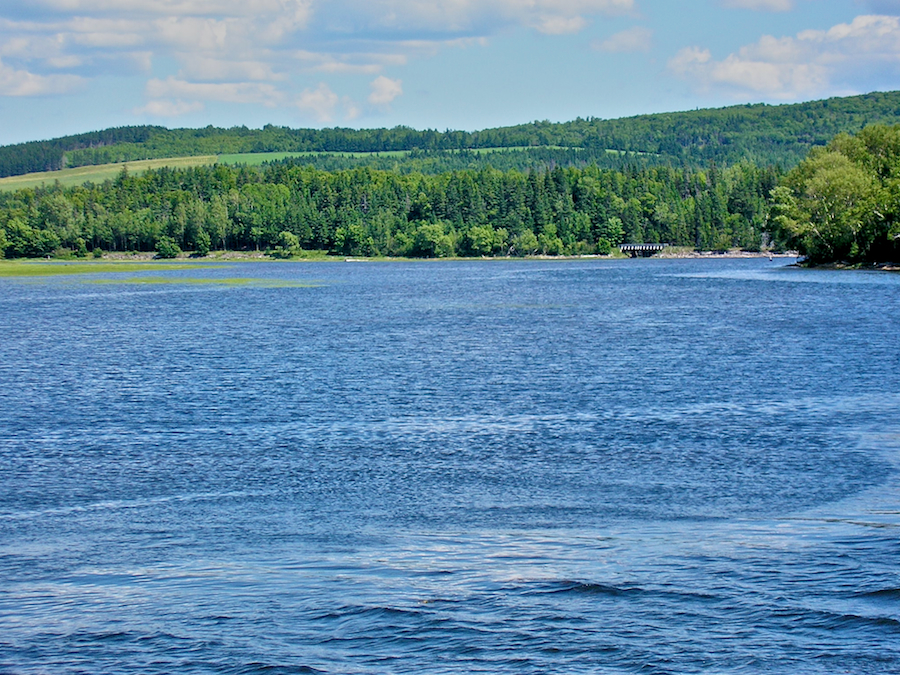 This photo of the upper Mabou River was taken from the abutment of a bridge that no longer exists, having been replaced by the current one. It is to the east of the present bridge and below it, having the advantage of keeping utility lines from appearing in the photos taken from there.
The bridge one sees in the centre right of the photo is one of the five bridges on the Railway Trail between Glendyer Station and its crossing of the Cèilidh Trail (Highway 19) in Mabou, just up the hill from where this photo was taken. This section of the Railway Trail is one of the most beautiful and I highly recommend it to you if you do not already know it. Though it is hard to make out, the river's course is to the left along the row of trees at the water's edge. Above the Cèilidh Trail bridge, the Mabou is navigable only by very shallow craft, such as canoes and kayaks; below it, a channel suitable for pleasure craft and lobster boats is kept open.
The melding of water, forest, field, and sky combine to make this scene one of great beauty. When it was taken, the tide was high, so the marsh grass which dominates this view at low tide was nearly submerged, though some can be seen at the left of the photo.