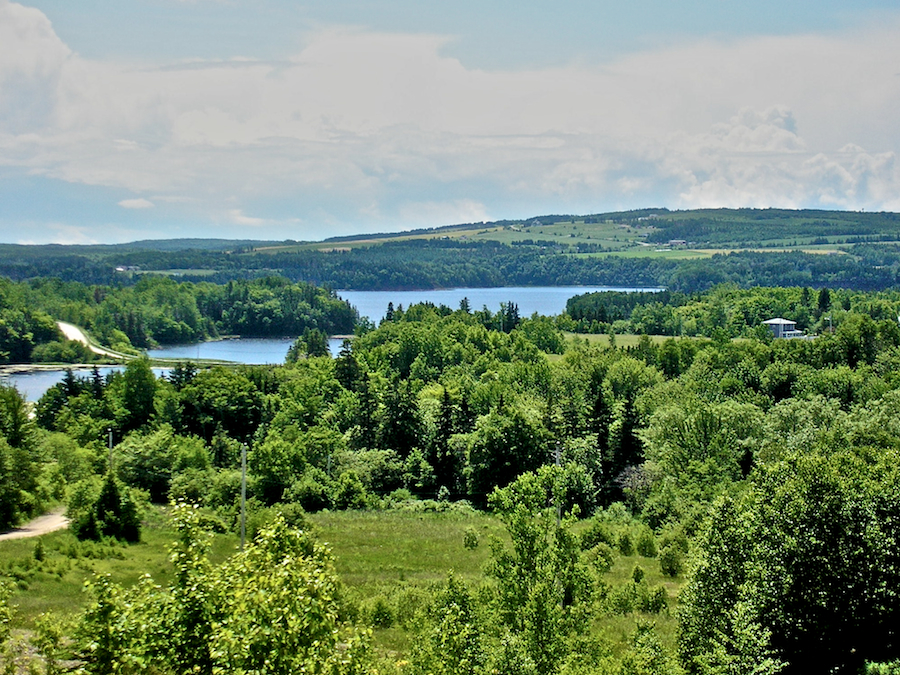 This fine day, I decided to satisfy my curiosity about just where the southern end of MacDonalds Glen Road comes out in Northeast Mabou. I am reluctant to explore what appear to be private driveways and all of the candidates from the Northeast Mabou Road looked like they were not thoroughfares. So, bright and early, I drove to MacDonalds Glen (in Mabou Coal Mines between Finlay Point and Beinn Alasdair Bhain (Fair Alistair's Mountain)) where last year, by hiking in from the Cape Mabou road, which I had accessed from the Glenora Falls road, I located the northern end of MacDonalds Glen Road.
The hike this year, which you can find described fully here, was as beautiful as I had remembered from last year, though it was all uphill until I reached Cape Mabou Road. After that, it was downhill and I came out on the Northeast Mabou road across from a house whose garage bears the number 110. So now I know! What threw me off was the garbage bin beside the road where MacDonalds Glen Road bears off to the left, making it look like a private road.
It's a goodly stretch from Northeast Mabou to MacDonalds Glen, at least 8 km (5 mi) one way, and with an uphill climb to the intersection with Cape Mabou Road in each direction, so I was exhausted when I got back to the car. But I was also very happy, as I had both satisfied my curiosity and enjoyed the beautiful trek through the Cape Mabou Highlands, most especially this view that was new to me and the gorgeous, but extremely hard to photograph, singing brook on the MacDonalds Glen end of the hike.
This photo was taken about twelve minutes walk up MacDonalds Glen Road from the Northeast Mabou Road. The road descending a hill at the left of the photo is Mabou Harbour Road; the water to its left and right is Northeast Cove, formed by the mouth of the Northeast Mabou River, over which Mabou Harbour Road passes on what appears to be a wooden bridge. The water in the centre of the photo is the Mabou River and above it on the other side is the hill in West Mabou that Hunters Road ascends to provide a glorious panorama of the entire region.