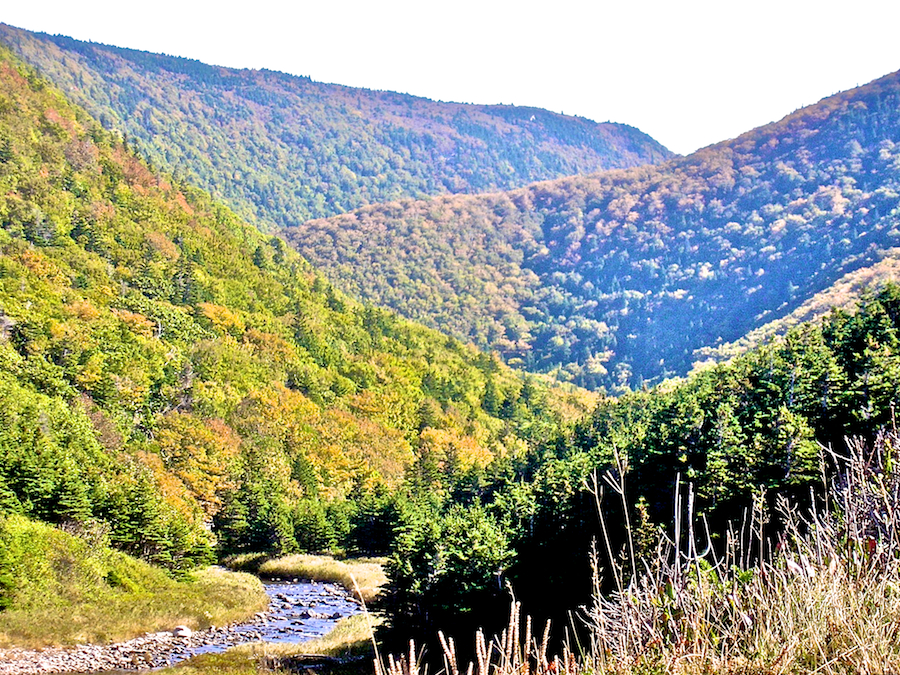 In the Cape Breton Highlands National Park to the southwest of Pleasant Bay, Fishing Cove is an inlet of the Gulf of St Lawrence carved by the Fishing Cove River, which enters the Gulf at the foot of MacKenzies Mountain. Its shores once held a community, also called Fishing Cove, settled by Scottish immigrants in the early 1800's. They made their living mostly from the sea, supplemented with what they could raise on the land they had cleared. A lobster cannery was built in 1897, but by 1915 the community was deserted, except for fishing shacks which were used by passing fishermen.
Two trails lead down to the inlet; the shorter one (2.8 km (1.75 mi) one-way), which I used, is relatively steep while the longer one (7.9 km (4.9 mi) one-way) is said to be an easier hike as it follows along the Fishing Cove River valley seen here. Provided one first obtains the requisite backcountry camping permit, it is possible to camp overnight at the mouth of the river on one of the several raised wooden platforms provided for the purpose.
The fall colours tend to be less spectacular along the Gulf of St Lawrence coast because a large number of the trees are evergreens and therefore remain green in the fall. This photo was taken at a time when the fall colours were only just beginning to appear, but shows a surprising amount of colour given the proximity of the site to the Gulf. The number of deciduous trees in the Fishing Cove River valley is doubtless due to its protected nature, being sheltered from the winds off the Gulf that seem to favour evergreen trees. Last year, their colours were oranges and yellows and distinctly lacked reds; I don't know how they appeared at their peak this year.