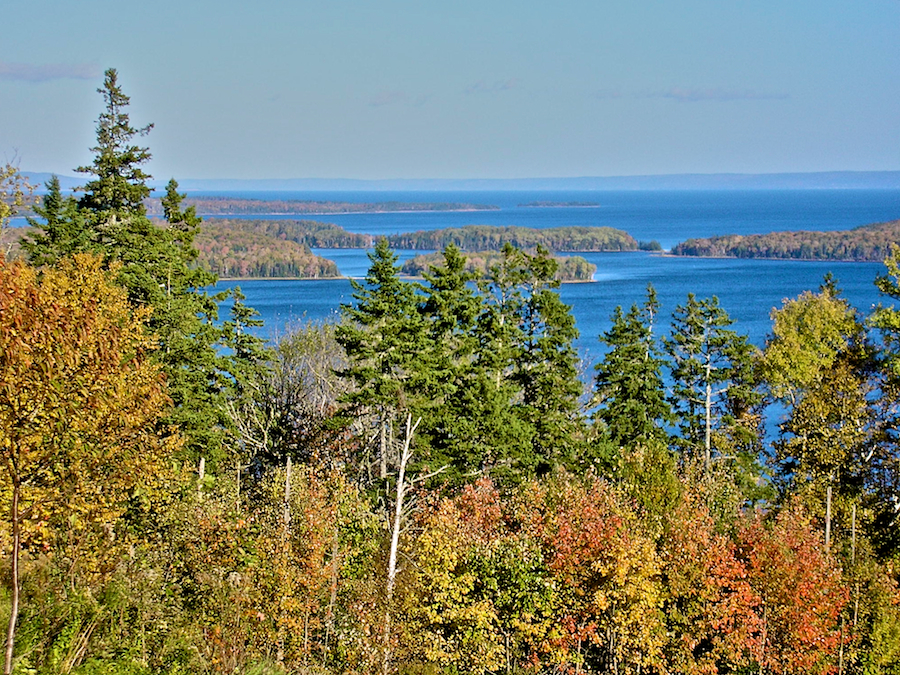 I discovered Mountain Road—its entrance lies between the two churches in Marble Mountain—earlier this year on one of my trips over that way; it dead ends fairly quickly at the top of the mountain, but before it does so, it climbs up the side of the mountain and offers fantastic views of the Bras d'Or Lakes. On a clear day, as this one was, one can see beyond the islands a significant portion of the main body of the Bras d'Or Lake (the waters in the foreground are those of one of its arms, West Bay) and all the way across to the East Bay Hills (like those along Whycocomagh Bay, actually the edge of a high plateau), which line the other side.
The Nova Scotia Atlas shows Mountain Road as continuing across North Mountain to the junction of the River Denys Road and the Marble Mountain Road near Valley Mills on the other side, though the topographic map instead shows the continuation as a trail starting where the road dead ends, which is likely the better description. In any case, this is a hiking opportunity that might offer some fine views from North Mountain, something I hope to determine next year now that I am aware of it. [For those who thought North Mountain was on the Cabot Trail in the Cape Breton Highlands National Park, fear not, it is! However, Cape Breton Island has two North Mountains, one there and the other between Marble Mountain and Valley Mills. Similarly, there are also two South Mountains, which in each case run parallel to the corresponding North Mountains. The two pairs are far enough apart that there should be no confusion.]
There were some very fine fall colours along the Marble Mountain Road, but we both agreed that they were not the equal of those we had seen earlier during the Northeast Mabou-Smithville-Mull River-Glencoe Mills-Whycocomagh drive. Perhaps here they were not yet at or were beyond their peak or perhaps the reds this way are just not so brilliant as there. Nevertheless, the scenery is so compelling at Marble Mountain, both from the Mountain Road and from the look-off along Marble Mountain Road, that it merits a drive regardless of the relative quality of the colours.
[2012] Alas, this Mountain Road hike has not yet happened; it is, however, still on my "to-do" list and I hope to check it out in the coming years.