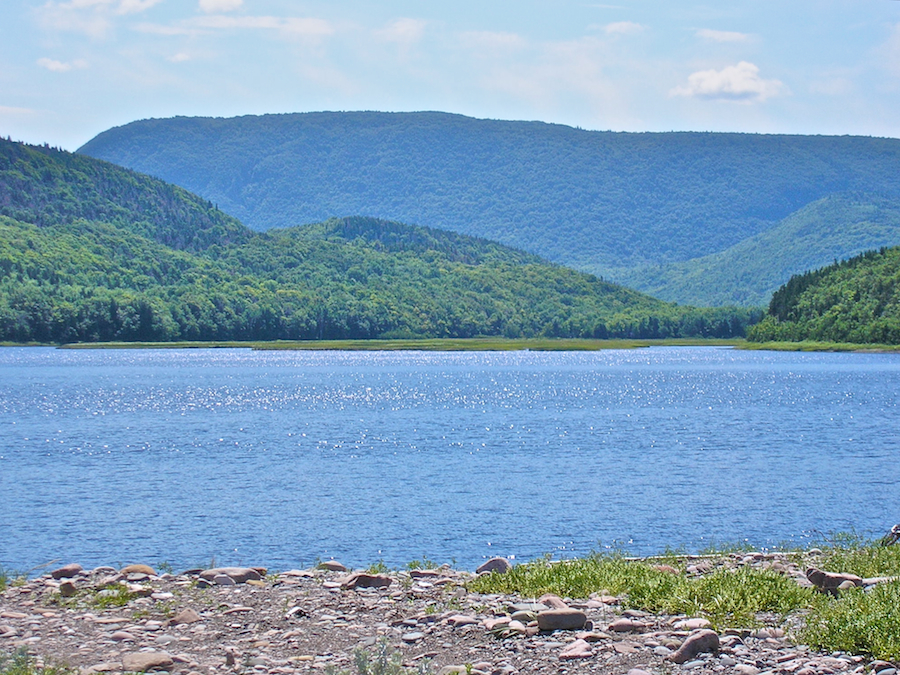 This view to the southeast shows the Chéticamp River estuary; the river is wider here than at any other point and calmer too. No sign here of the boulders, rapids, and falls which characterize much of the rest of its course!
This photo was taken from the gravel/sand bar past which the river flows to reach the Gulf from about halfway between the mouth of the Chéticamp River and the hill which separates it from L'Étang-à-Johnny-à-Eusèbe. The hill at the far left of the photo is Le Buttereau. Immediately across the water one sees the marsh grass through which multiple channels meander, but they all rejoin to flow behind and to the right of the point one sees at the far right of the photo before curving back to the left below the dominating mountain in the background of the photo, known as La Montagne Noire (Black Mountain).
This shot was taken on my way back to the car and clouds were already starting to form, though the day continued to be a very fine one, with the clouds remaining fluffy through the afternoon. The sparkling sun on the water and the glories of the scene are just part of the memories that this photo brings back to mind: it was a lovely day in a gorgeous place!