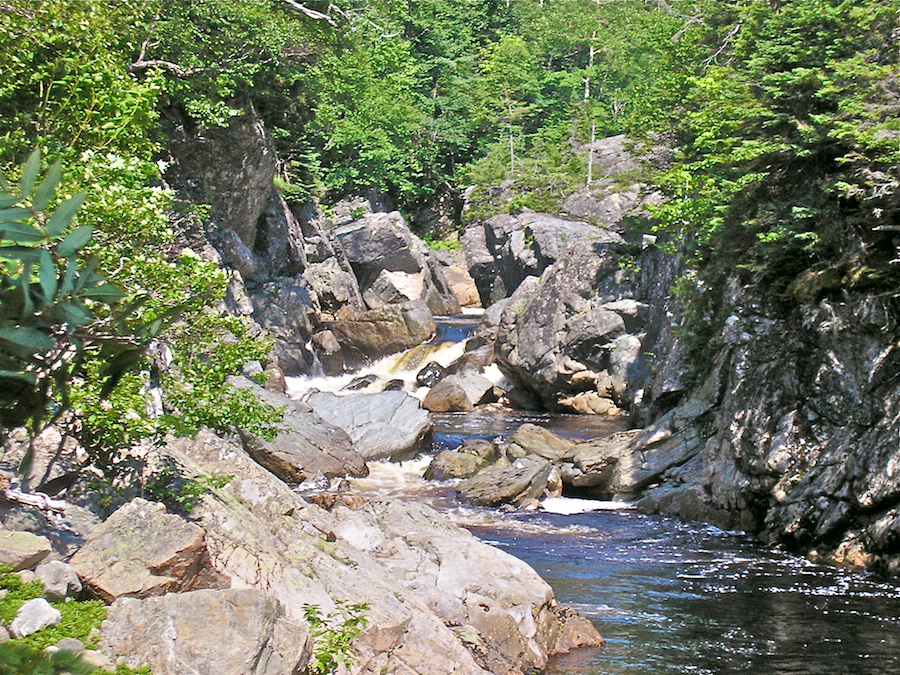 This close-up view of the falls shows that there is only a very narrow gap through which the river flows here. Notice the bedrock which has seemingly been surgically diagonally sliced in the centre of the photo to allow the water passage. The boulders which lie in the river below the cliff face in the centre middleground were perhaps once part of that cliff before being eroded away.
Les Trous de saumons Trail ends at the Third Pool and with this photo, so does our trip up the Chéticamp River in this essay. Although there are two smallish hills to be climbed on this trail, the overall hike is definitely very easy and the constantly changing character of the river and of the terrain make it a gorgeous place to see and to be. As these photos have shown, the doughty salmon who ascend this river to spawn certainly do not have an easy time of it. The trail is a great deal easier!
Both the Petit-Étang beach and this trail make for fine family outings, with the proviso that young children be closely supervised at the water's edge.
I regret having taken so long to discover the beauty and enchantments of this river and I hope, if you are not familiar with it either, that these photos will encourage you to get out and explore it for yourself when you are next in the area.