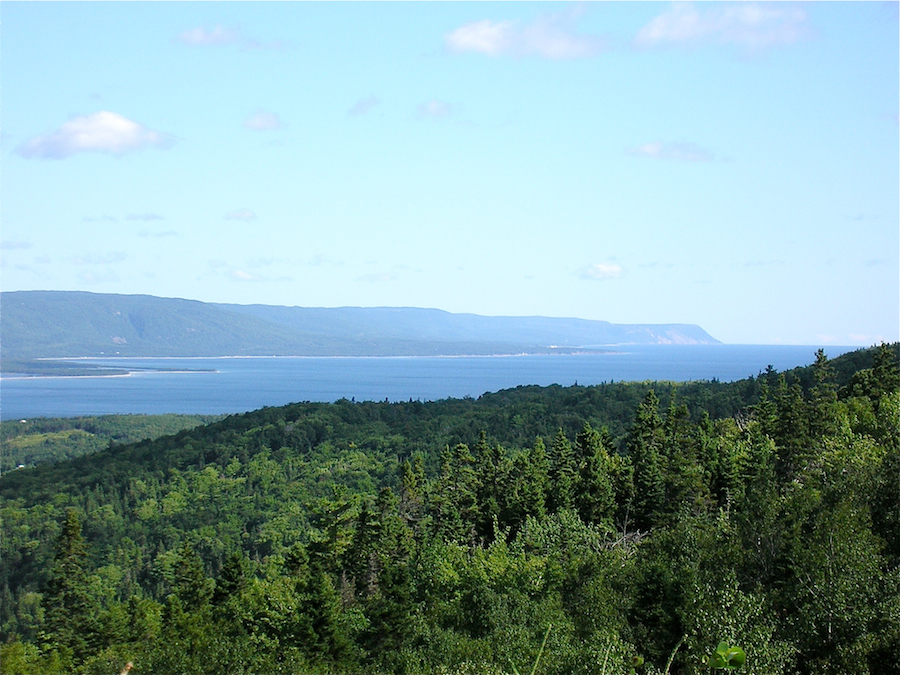 The Trans-Canada Highway (Highway 105), ascends Kellys Mountain beyond Exit 12, the Englishtown exit; 4.3 km (2.7 mi) from this exit, you will find the St Anns Look-Off on the left side of the road as you drive northeast. Be sure to stop there on a clear day, as you will then have a gorgeous panorama at your feet: wonderful views across St Anns Harbour to St Anns on the left; Murray Mountain, the Englishtown ferry, Jersey Cove, and St Anns Beach in the middle; and the Cape Breton Highlands Plateau across St Anns Bay running down the coast all the way to Cape Smokey on the right. It is this last view that is seen here, looking somewhat to the east of north. Cape Smokey is the headland whose bare rock faces can be seen as it falls into the ocean at the end of that part of the plateau visible in this photo.
At the far left of the photo, you can see a lowland ending in a spit of land formed by the outflow of the Barachois River, which enters St Anns Bay to the left (and outside the scope) of this photo. On the other side of the spit of land, you can see white specks on the shore—buildings at Indian Brook. Well below the heights of the plateau, the land next to St Anns Bay is much lower and holds all of the settlements along St Anns Bay—River Bennet, Indian Brook, North Shore, Little River, Skir Dhu, French River, Birch Plain, and Wreck Cove. It also holds the Cabot Trail, which runs through these communities on its way towards Cape Smokey. The point to the right of centre in the photo is Bentinck Point, to the left of which one finds Plaster Shore and Plaster Provincial Park, so named for the gypsum rocks that are visible there.
[2012] When I was by Plaster Provincial Park in 2011, its gates were closed and the signage had been removed; I do not know whether this situation is permanent, though I hope it is not, as its short trails (mostly level, except for those leading to the shore) were a nice place to stretch one's legs and to view the St Anns Bay coast, including the Bird Islands. The interesting shore trail also allowed one to see close up the gypsum formations which gave the park its name.