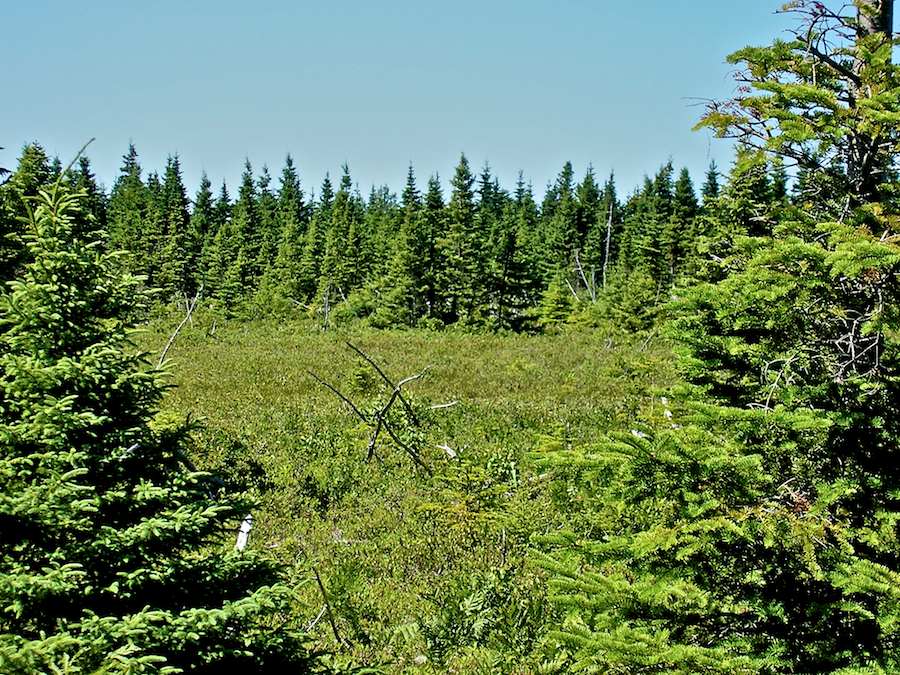 From the fifth look-off to the sixth look-off takes twenty-three minutes. This section of the trail crosses the plateau at the very top of Cape Smokey, which is very much like the plateau everywhere in the Cape Breton Highlands, i.e., rarely level, boggy, and forested. There is a fair amount of up and down, but no real change in elevation. Haynes talks about the moose that are common here and the damage their browsing does to trees; although I saw no moose this day, there was plenty of evidence that they were frequent visitors.
This view of an open area just off the trail between the fifth and sixth look-offs illustrates the terrain one finds at the top of the Cape Smokey plateau. Burnt by forest fire, the trees have regrown in places, but not to anything close to the height of trees in a mature forest.
In spite of being at the top of a plateau, this photo also shows why there are no great vistas from the plateau: the trees are tall enough one can't see over them. Fortunately, the siting of the fourth look-off is such that it gives one a very good idea of what one would be seeing here were the trees not blocking the view.