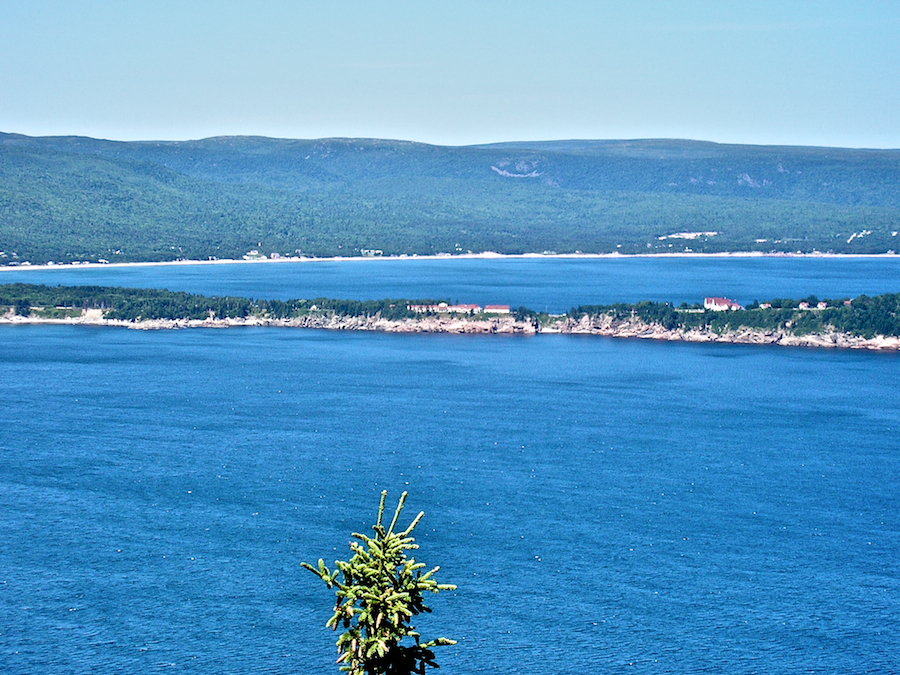 This view to the northwest shows South Bay Ingonish in the foreground; the portion of Middle Head containing the famed red-roofed Keltic Lodge Resort and Spa; North Bay Ingonish with the villages of Ingonish Centre and Ingonish along its shore, which the Cabot Trail follows; and the Cape Breton Highlands beyond.
All of Middle Head and the adjacent land is part of the Cape Breton Highlands National Park, but the villages (Ingonish Ferry, South Ingonish Harbour, Ingonish Beach, Ingonish Centre, and Ingonish) are all outside the park boundaries. The park lands return to the shore north of Ingonish village.
An easy trail which I hiked a few years ago to the end of Middle Head begins in the parking lot of the Keltic Lodge; this is open to the public, even if you are not staying at Keltic Lodge. It offers fine views of Cape Smokey and the coast to the north.
Fans of golf will find the Audobon-certified internationally renowned Highland Links Golf Course at the point where Middle Head leaves the main part of Cape Breton Island, to the left of this photo and out of its scope. This 18-hole, 6,592 yard, par 72 course, within the Cape Breton Highlands Park Boundaries, set between the mountains and the ocean along part of the Clyburn River, was designed and built in the 1930's by Stanley Thompson using many elements of Scottish culture and history; he took his inspiration from holes in various Scottish golf courses and bestowed on the holes he designed names such as Tam O'Shanter, Killiecrankie, and Heich O' Fash (Heap of Trouble). This golf course is ranked 69th in the world and was named the top public golf course in Canada by Golf Magazine (2001 September).