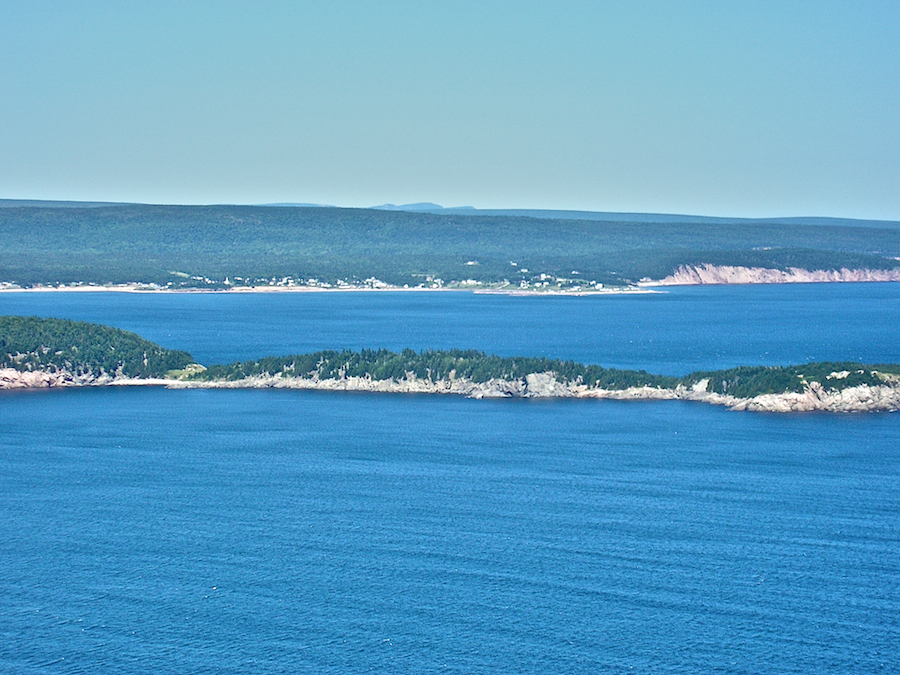 This gorgeous view is a bit west of north. Again, the waters of South Bay Ingonish lie in the foreground; a portion of Middle Head lies in the middle ground; North Bay Ingonish lies on the other side of Middle Head; Ingonish village lies on the shore; and the Atlantic coast to the north is at the far right. Far in the background, the mountains at the north end of Cape Breton Island can be seen rising over the lower Cape Breton Highlands in between, over which it is possible to see given the height of the Stanley Point Look-Off.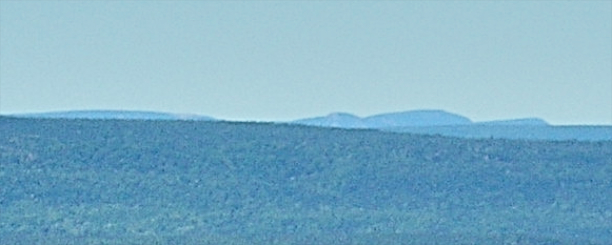 It is always a treat to see something from a different point of view. This was the first time I had ever seen the mountains in the far north of Cape Breton Island from such a distance. The detail photo above makes their shapes stand out even better. I couldn't keep my eyes off them, in spite of the great beauty of all of the rest of this fabulous panorama!
About a third of the way in from the right, at the far right end of Ingonish village, one sees in the waters a point which juts a small ways into the ocean and a cove behind it. There are actually two points there; the one sticking out to the right is MacLeods Point and the one which sticks out to the south (almost impossible to see here) is called simply "The Point". To the left of The Point is North Bay Ingonish Beach, another fine sand beach, though not as long as Ingonish Beach along South Bay Ingonish. Behind MacLeods Point is Bear Cove, whose steep cliff-lined shore leads out to Red Head (not visible here as it is off the far right of the photo).