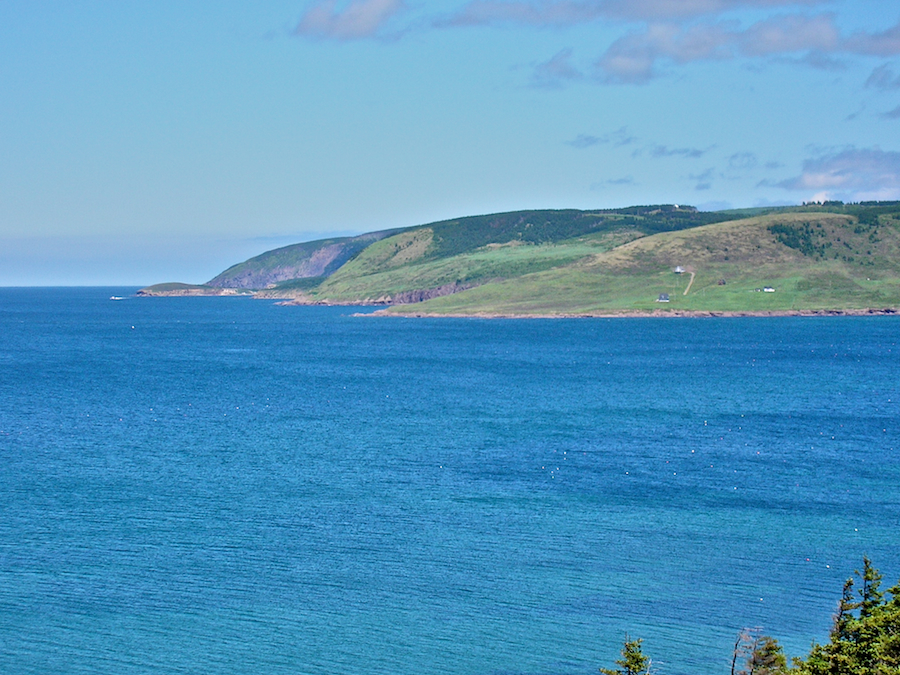 This telephoto view from the Colindale Road in West Mabou shows the southwestern corner of Cape Mabou and the coast towards the north. Leftmost and most distant of the points visible along the coast in this view is Finlay Point, in the shelter of which the fishing harbour for Mabou Mines is located and where the Cèilidh on the Wharf celebration mentioned in the introduction is held. Just before Finlay Point and considerably further inland, is Coal Mine Point; Beaton Point is the third point, closer still; Green Point is the nearest point in this view, with a couple of houses visible on its sides. The mouth of the Mabou River is to the right of Green Point and outside the scope of this photo.
Beinn Alasdair Bhain rises beyond Finlay Point. The forested mountain in the centre of the photo is unnamed; Mountain Road leads from Mabou Harbour Road to its summit, from which there are fine views to the south but only very narrow views to the north; the road continues down the other side and comes out on the Mabou Mines Road at Mabou Mines, but, at least the last time I was there, the road down was better traversed on foot or in a jeep than in a car. The mountain which rises above Green Point is named Mabou Harbour Mountain.
This lovely view is one of which I never tire and I return here again and again. For a wider-angled view from this location, see this photo from a previous essay, which also shows West Mabou Beach Provincial Park and the Cape Mabou Highlands further to the east.