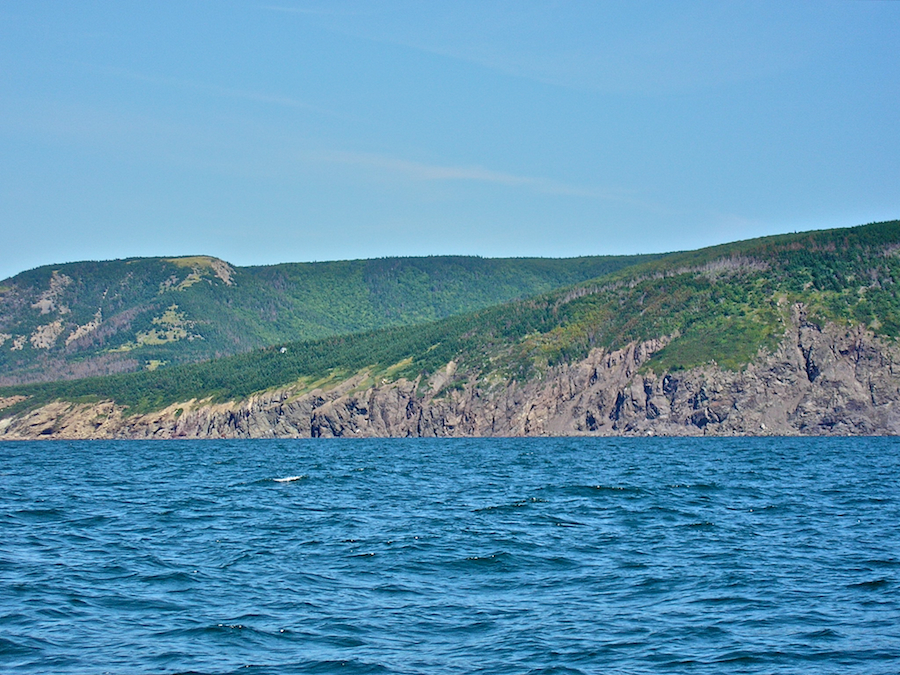 This view is yet further south than the preceding one, with which it overlaps considerably. Here, the Cape Mabou plateau is seen running from the col below the Beinn Bhiorach summit across the centre of the photo. The MacArthur Trail climbs up the slope from the MacKinnons Brook Trail Head to meet up with the Coill à Bhraighe (Highland Forest) Trail at the top of the plateau near the centre of the photo; there are fine views of Beinn Bhiorach and of the MacKinnons Brook Valley along much of its length. The Oir à Ghlinne (Edge of the Valley) Trail follows the ridge for a ways and then descends to the Cul Na Beinne (Beyond the Mountain) Trail, also known as MacKinnons Brook Lane. There are fine vistas from the look-offs on this trail as well, such as the one shown in this photo.
The slope ascending across the foreground of this photo is the side of Beinn Alasdair Bhain, whose summit is at the right, out of the scope of this photo. The Beinn Alasdair Bhain (Fair Alistair's Mountain) Trail leads up this slope through forested lands; it is well inland of the house and of the cliffs, which latter I had never before seen and had no idea that they were so unremittingly vertical. As in the previous photo, the height of the house is useful in gauging the height of these cliffs. Perhaps the most interesting thing about these cliffs is how seriously eroded they are; notice all of the fissures, crevices, and cavities in their surfaces. Although I have not encountered any running water along the Beinn Alasdair Bhain Trail near the summit, two instances of what appear to be gravel beds carved by water as it rushes down the cliffs can be seen at the centre right and right of this photo.
[2012] The spruce damage is very noticeable in this photo; four years after this photo was taken, great areas of dead trees on the western coast south of the house have since been cut away to reduce the risk from fire, requiring the rerouting of the Beinn Alasdair Bhain Trail as it descends to the MacKinnons Brook Trail Head: it now runs well to the east of its previous path, avoiding the cut-over areas.