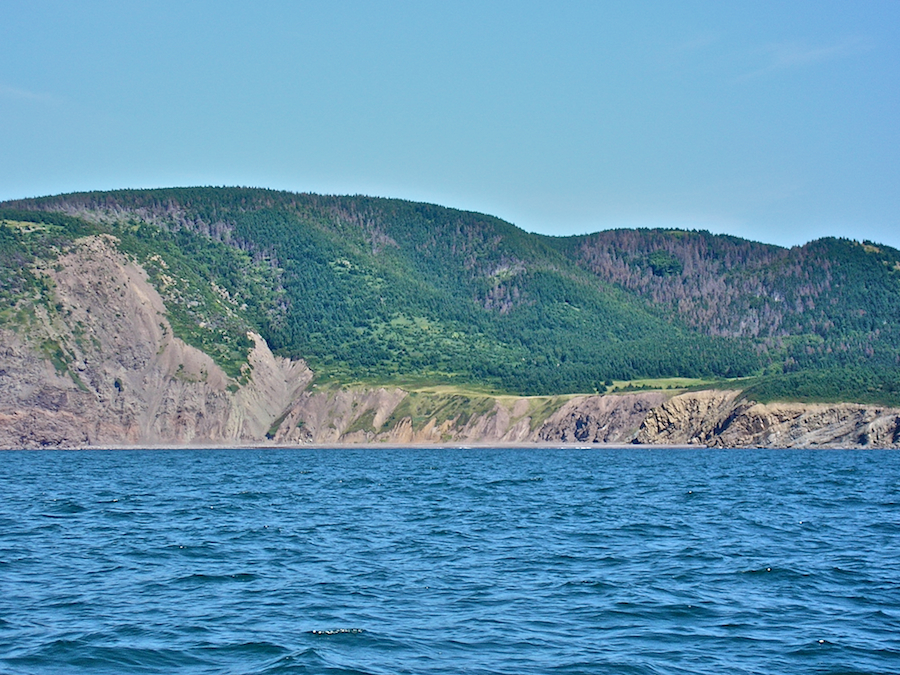 The Beinn Alasdair Bhain look-off which, in the previous photo, was in the centre is now at the far left and the coast to the south is now in view. This coastal area is known as MacDonalds Glen. The Cape Mabou Trail Club map shows the mountain at the far right as Cross Mountain, but the signage at the Mabou Post Road Trail Head, which lies at its foot, names it as Cnoc Aitein (Sandy's Hill).
The Beinn Alasdair Bhain Trail begins at the Mabou Post Road Trail Head and climbs through the forest and across the lower and middle slopes in the centre of the photo to come out at the Beinn Alasdair Bhain summit; the look-off is a couple of minutes off the main trail. There are fine views from several points on this trail, most of them from the higher elevations; it is a short hike (only 1.2 km (0.75 mi)) from the trail head, but the views from the look-off repay the efforts in climbing up there many times over.
From the point of view of those who lived in MacDonalds Glen, this photo makes it easy to understand why the term "beyond the mountain" came to be used for the homes of those who resided at MacKinnons Brook and elsewhere on the other side of the Highlands showing here.
Notice the very distinct markings in the rocks of the cliffs at the right of the photo. The 45° tilt one sees at many points along the Inverness County coast stands out in these cliffs, but those to the left are of a more vertical orientation and their dark grey colour may indicate a seam of coal. One can also see in the lower cliffs of Beinn Alasdair Bhain a lesser degree of tilt, but clearly a completely different orientation from those at the far right. What a storied life these rocks must have lived!
[2012] The spruce damage seen here has only gotten worse in the interim. When I look now at this photo, I am struck by how much there was then that I overlooked.