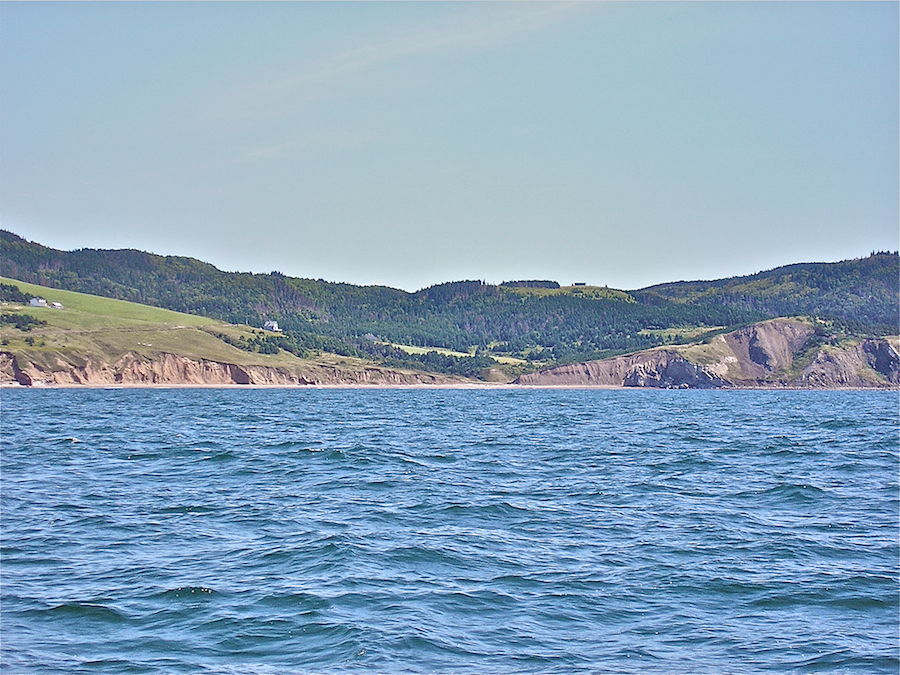 There is again little overlap between this view and the previous one. From the left and crossing beyond the centre of the photo, one sees the mixed sand/gravel beach that runs from the all sand Coal Mines Beach at the left to Coal Mine Point, which can be seen head-on about a fifth of the way in from the right.
In this view and at this hour, Coal Mine Point is in shadows. From Mabou Mines Road, which one sees at the left of the photo running along above the cliffs, the huge gypsum face to the left of Coal Mine Point draws the eyes immediately to its whiteness, but here it does not stand out. Instead, it is the gypsum to the right of Coal Mine Point, not visible from the road, which is more prominent here. There is an unofficial look-off where Mabou Mines Road turns north towards Finlay Point Harbour that has fine views of this area; just look for it at the side of the road. A photo of Coal Mine Point from this look-off appears later in this essay.
Unless one is paying very close attention, it's easy to overlook the house atop the hill just right of the centre of the photo. What a marvellous bird's-eye view of the area they must have from up there!