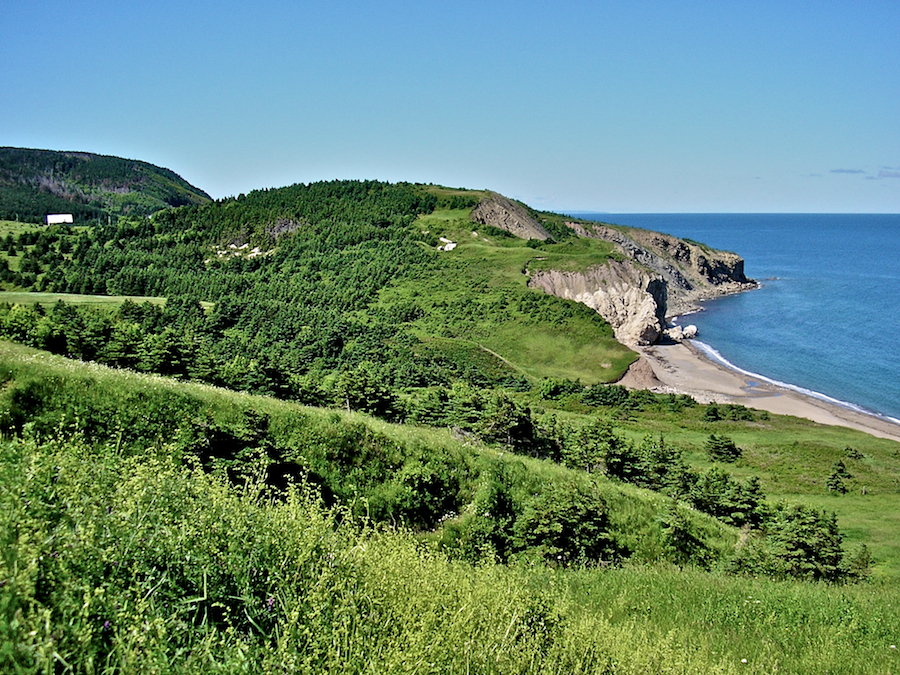 This is the usual view of Coal Mine Point and the white gypsum face to its left that shines brightly in the sun, immediately drawing the eye to it. Gypsum rocks can also be seen here left of centre and in the centre of the photo.
This is a beautiful site and one I find myself stopping to admire every time I am in the area. The beautiful undulating highlands, the contrasting greens of forest and field, and the blue of the sky reflected in the sea, all combine to make this vista one of my favourites on Cape Breton Island.
An autumnal version of this view (taken before the latest collapse of the gypsum face) adorns Kinnon Beaton's Eoghan Dubh CD, which has a selection of the many hundreds of fiddle tunes Kinnon has composed; this choice of cover (repeated on the CD itself) is a most fitting tribute to the Mabou Coal Mines style of music that he exemplifies so marvellously and so faithfully in his playing and in his compositions. And this is not the only CD of Cape Breton music in which a similar photo figures prominently; clearly, this vista resonates deeply with Cape Breton musicians.