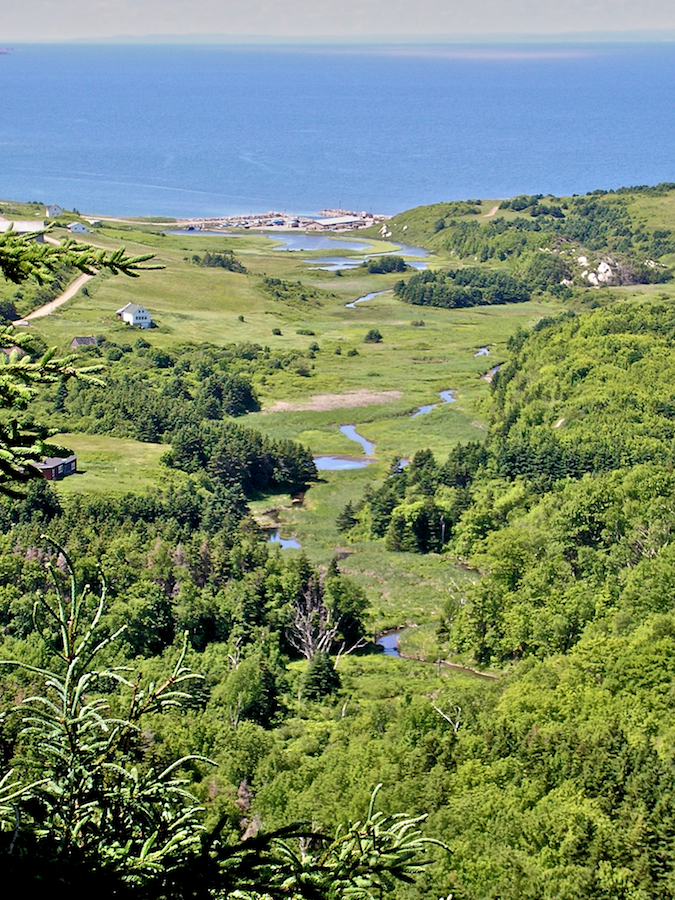 This photo to the southwest was taken while ascending the the Beinn Alasdair Bhain Trail "four minutes beyond the first [90°] left turn" according to my notes; the view from the look-off on Beinn Alasdair Bhain is similar, but from considerably higher up.
Finlay Point Harbour lies in the centre of this photo at the edge of the Gulf; Finlay Point is at the right (only part of it is visible here). Mabou Mines Road can be seen at the left of the photo. MacDonalds Glen lies directly below, with Mill Brook meandering across the meadows to its mouth: it flows under the bridge one sees on Finlay Point Harbour Road to the left of the centre of the photo and out through the harbour itself to reach the Gulf. I can not make out from this photo exactly where, but MacDonalds Glen Brook joins Mill Brook from the east before it reaches the harbour, probably near the evergreens left of centre in the photo.
I believe the rather stange patch of white one sees on the water in the distance is the reflection of the cloud bank in the skies above; it is not usually there. The blue on the far horizon is mainland Nova Scotia; Cape George lies to the right, outside the scope of this photo, so one is really looking across St Georges Bay in the far distance. The point in the upper left of the photo is an unnamed point at the entrance to Sutherlands Cove (north of Port Hood).