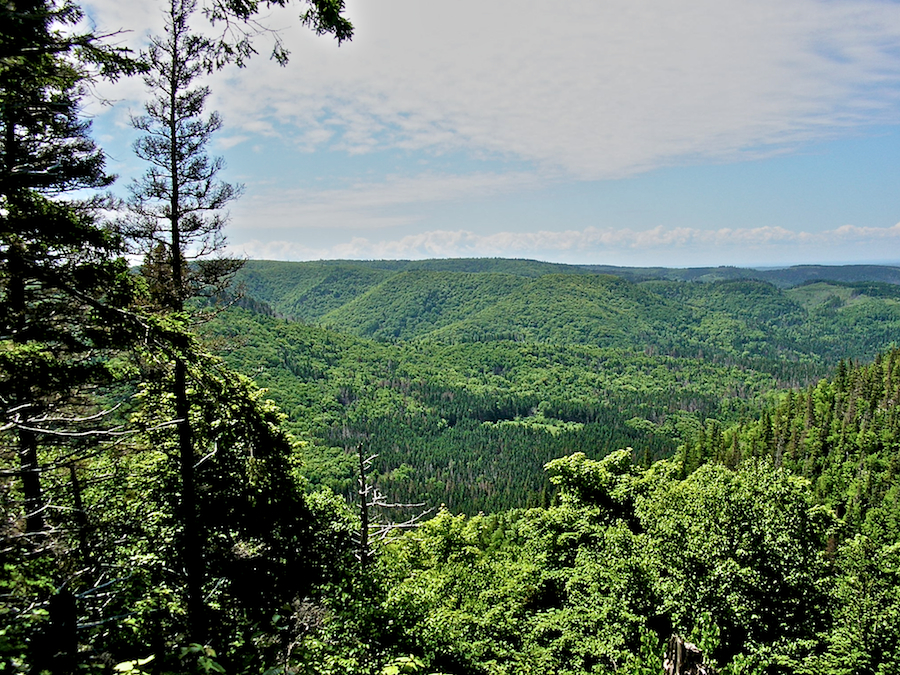 One reaches the MacPhee Trail junction with the Beinn Alasdair Bhain Trail just a couple of minutes past the look-off. The MacPhee Trail crosses a ridge offering a spectacular view of Beinn Bhiorach and the coast below it and then meets the Beaton Trail. Just a couple of minutes north on the Beaton Trail, fine views lie directly behind one, though one must turn around to see them.
One of those views is of the Cape Mabou Highlands to the east; this is of the same area as in the previous photo, but from a different vantage point about a kilometre (0.6 mi) further east.
The views to the south and southwest from this point are equally fine, with the Colindale Shore and, on a good day, mainland Nova Scotia across St Georges Bay (the angle of view is such that Cape George is behind trees). Both the MacPhee and the Beaton Trails were opened in 2006, so, if you haven't been there recently, you should really check them out. The Beaton Trail leads on to another spectacular look-off over the MacKinnons Brook Valley directly below with Beinn Bhiorach directly across before descending to the Cul Na Beinne (Beyond the Mountain) Trail a couple of minutes from the MacKinnons Brook Trail Head; unless you really like to climb, however, access the Beaton Trail from the MacPhee Trail and not from the Cul Na Beinne Trail, as it is a very steep climb with several switchbacks.