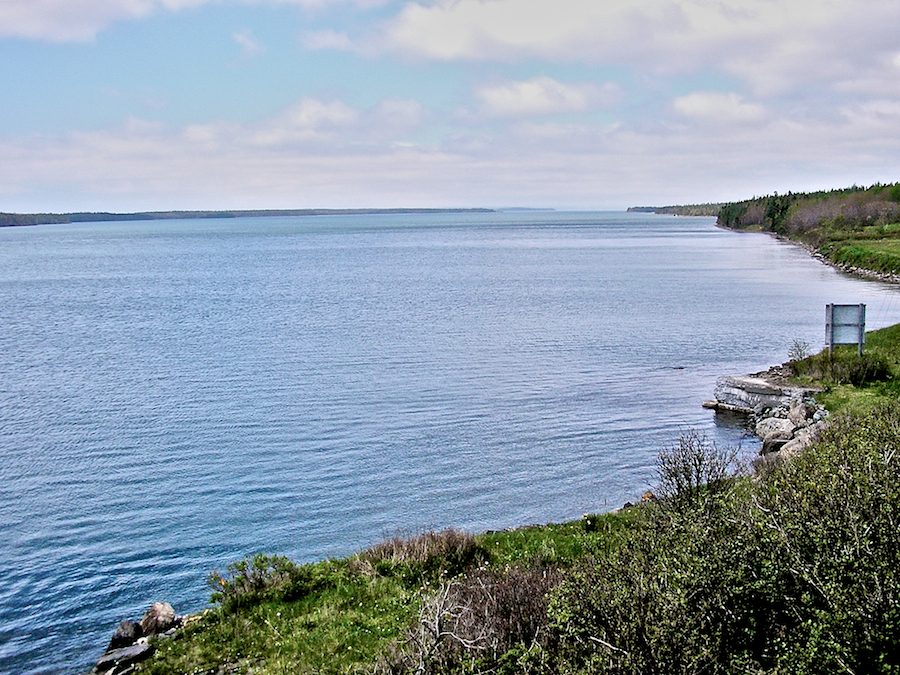 When I left Mabou in the morning, it was with foreboding: rain was pouring down and the day's forecast was for continued rain. It was fogged in as I drove along St Georges Bay, but at least the rain had petered out to a fine mist there. To the east of Port Hawkesbury, I saw my first patch of blue sky for the day and my heart lifted; perhaps it would not be a total loss after all. With Cape Breton's ever capricious weather, there's really no way to tell in advance.
By the time I reached Lennox Passage, the patch of blue sky had widened and the sun had come out. As this photo and the next show, the clouds weren't absent, but there was enough blue in the sky to give the waters of the Passage a distinct bluish-grey or greenish-grey cast, depending on the depth and where one looked.
In this view to the southwest, the shore of Cape Breton Island is on the right, with, I believe, Stone Building Head the furthest point of land visible on this shore. The mouth of River Inhabitants is a good deal further down the Passage beyond this point. In the centre right of the photo in the far distance, one sees Lennox Passage joining the waters of Chedabucto Bay; on the far horizon beyond, a hazy greyish-coloured band of land lies over the Guysborough County shore towards Melford Point. On the south side of Lennox Passage, one sees two main constituents of the archipelago; the remotest land visible here I take to be Janvrin Island and the point across from Stone Building Head is Glasgow Point on Isle Madame, whose shore continues from there to the photo's far left.
In 2003, I drove to Janvrin Island (the road starts in West Arichat on Isle Madame); the one photo I have from that trip shows a cloudy bright day and beautiful greens in the marshes around the island. I remember that there are good views of Chedabucto Bay from the road to Janvrin Island, but I have only one photo of poor quality of that view; it's a trip I need to do again and fortunately is one that can be done as a day trip from the Cèilidh Trail.
[2012]