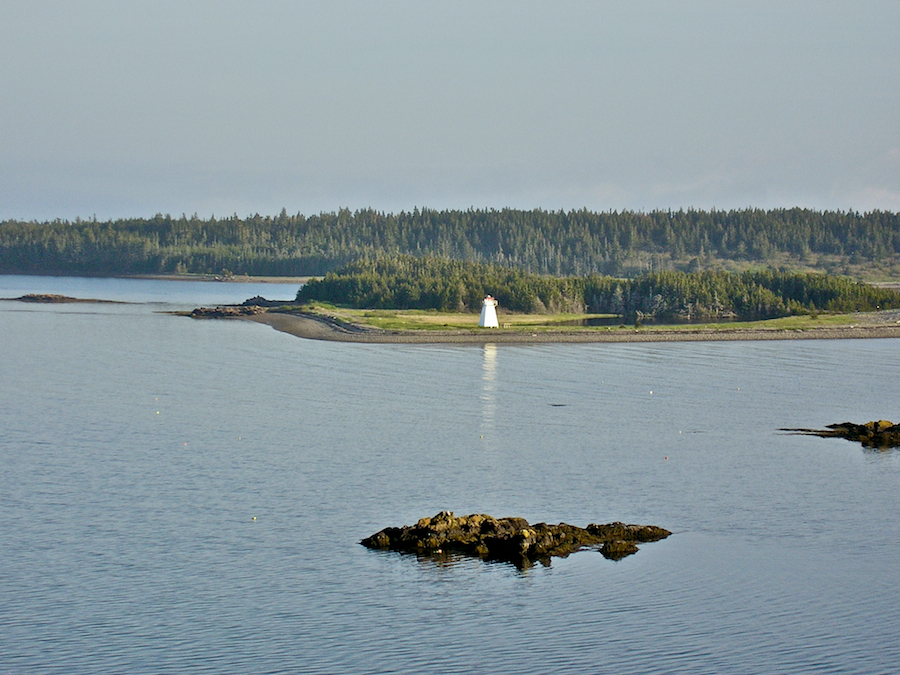 After a fine meal featuring the excellent local chowder and grilled haddock, the sun was still out, though the blue skies had yielded to considerable cloud cover, some of it threatening as seen here, so I explored the area around Arichat and arrived at a small roadside park, which I had noticed in the morning, from which several expansive views of Arichat Harbour and Cape Auguet Bay offer themselves to any who will stop and look.
In this view directly south from the park, which sits on a cliff above the west end of Arichat Harbour, one sees Jerseyman Island and its lighthouse, which dates back in various incarnations to 1872. The always interesting web site of The Nova Scotia Lighthouse Preservation Society describes Jerseyman Island thus:
Jerseyman Island is a crescent-shaped strip of land sitting athwart the entrance to Arichat Harbour. The island was named by members of the Robin family who migrated to Isle Madame some two hundred or more years ago from the island of Jersey to establish a fish processing plant. Extending in a NW/SE direction, it consists of three hump-like mounds of scrubby land connected by two rough, stone beaches. Approaching from seaward, the island forms part of the northern coastline of Chedabucto Bay at the entrance to the Strait of Canso - starboard hand all the way. The island is densely covered with stunted spruce and alder bushes. The seaward side is ringed with constantly breaking seas and fringed with treacherous reefs, ledges and shoals.
Like the one at Grandique Point, the current lighthouse, built in 1953, is of the "standard issue" that one sees in most locations in Cape Breton; the keeper's house that accompanied the lighthouse was removed in 1980. For full details on the lighthouses which have stood on this site, including a fine memoir by Russ Latimer of boyhood recollections of his life on the island as a lightkeeper's son, start here.