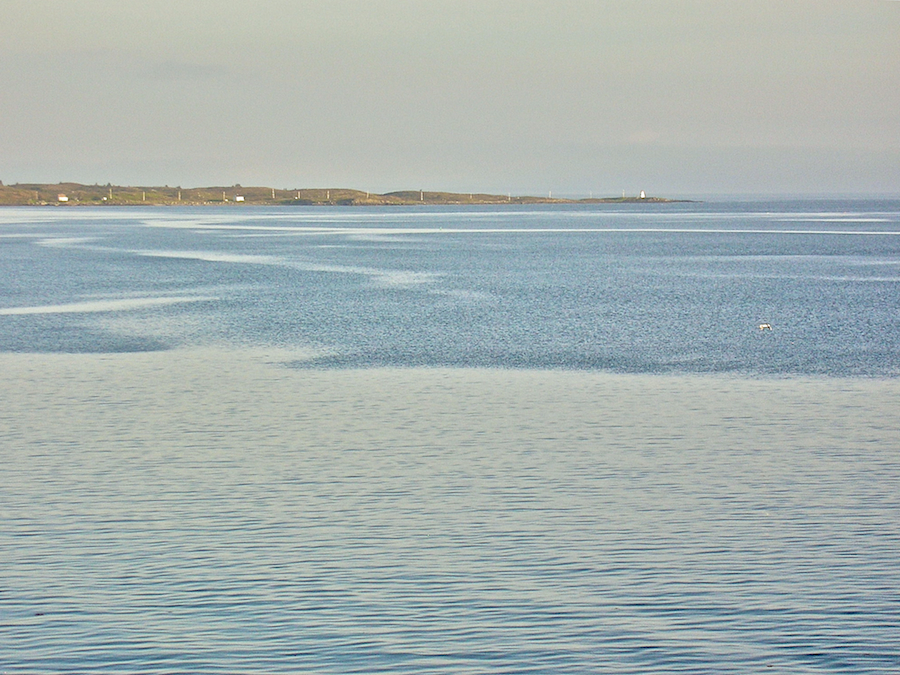 The Cannon Look-Off is at the end of Bay Lane, a short road which runs from Highway 206 to Arichat Harbour passing in front of L'Assomption Church. A plaque there in French reads (in free translation) thus:
In the 18th century, Arichat Harbour was a very prosperous port of call, welcoming ships from the world over. Five shipbuilding yards and several factories were spread out along its shores. At the end of the 18th century, merchants from the Isle of Jersey, French-speaking British citizens, settled Jerseyman Island at the entrance to the harbour. Later on, the island was attacked by the American privateer John Paul Jones, forcing the inhabitants to move to Isle Madame. The trading post built on Jerseyman Island by the company Robin, Jones, and Whitman was moved to Kavanaugh Point at the east end of the harbour. The twin cannons remain as a historical and symbolic reminder of this period.
This view from the Look-Off is of the west coast of Cape Auguet across Cape Auguet Bay; the land in the far distance at the right across Chedabucto Bay is mainland Nova Scotia near Canso. Le Chemin d'En-Bas (Lower Road), punctuated by the utility poles one sees in this photo, leads out to the Marache Point Lighthouse at the southwesternmost point of the cape (the cape continues further southward beyond this point, but retreats to the east behind the lighthouse. The lighthouse's name was officially changed in 1970, but is still commonly called the Cape Auguet Lighthouse or the Arichat Lighthouse; for more on this lighthouse, see this web site. Note that the Eco-Trail follows the east coast of Cape Auguet and therefore does not lead to this lighthouse.