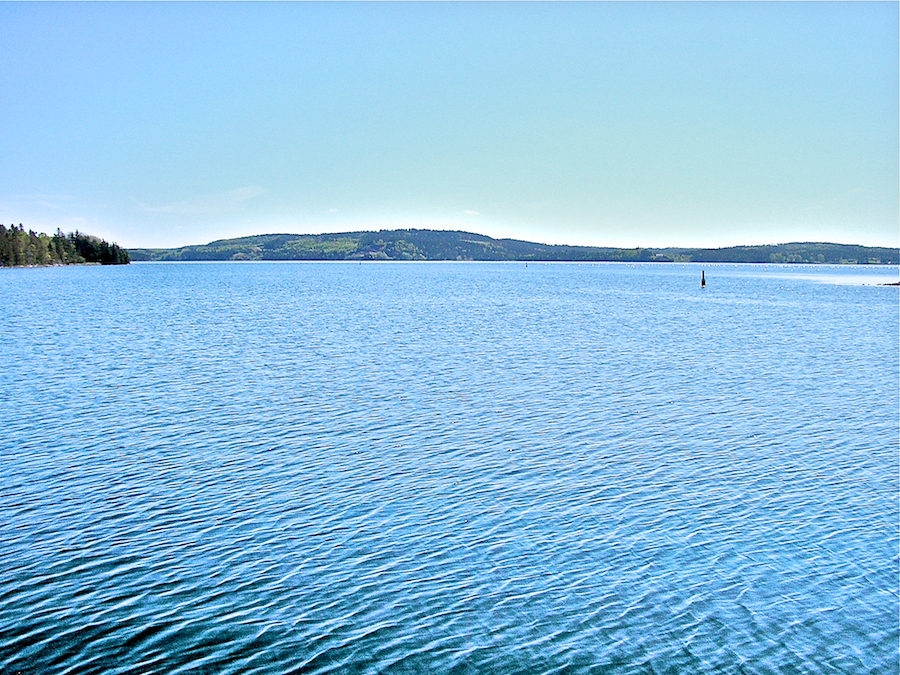 The next day, the early morning saw skies filled with huge whopping white clouds that could have portended a less than stellar day, but they had completely dissipated by the time I had made my way from Arichat to St. Peter's.¹ I couldn't believe my luck! After breakfast in St. Peter's (I saw nothing that was open for breakfast in Arichat), I drove to the south end of St. Peters Canal National Historic Site, whose web site can be found here.
I walked along the canal towards the north, following what was a portage trail before the canal was built between 1854 and 1869. A mere 0.8 km (0.5 mi) separates St. Peters Bay (an inlet of the Lennox Passage) in the south from St. Peters Inlet (an arm of the great inland sea formed by the Bras d'Or Lakes system) in the north, making this portage route in days gone by the easiest way of moving goods both from the interior to waiting ships with access to the outside world and from those ships to the interior.
The view one sees here is of St. Peters Inlet; the three channel markers visible in this photo trace the path boats follow to enter the canal. The point at the far left is on Handleys Island. The rolling hills on the other side of the Inlet are typical of the terrain in this lovely area.
On such a fine day as this had turned into, one can easily see why the inner coasts of the Bras d'Or Lakes rival in beauty those of the outer coasts along the Atlantic and the Gulf of St. Lawrence. What a staggering amount of beauty of all varieties is packed into Cape Breton Island!
---
¹ Unlike St Anns, St Peter's is one of the relatively few locations in Canada to have officially been granted an apostrophe in its name and it appears with one on the topographical maps and in The Nova Scotia Atlas; however, derived place names, such as St Peters Bay, St Peters Inlet, and St Peters Canal National Historic Site do not have an apostrophe in these sources. (Having said that, the village's web site uses the apostrophe for such derived names as well.) As to the period after St, which some references use, I follow the practice of the topographical maps and The Nova Scotia Atlas, which omit it in all place names.↩