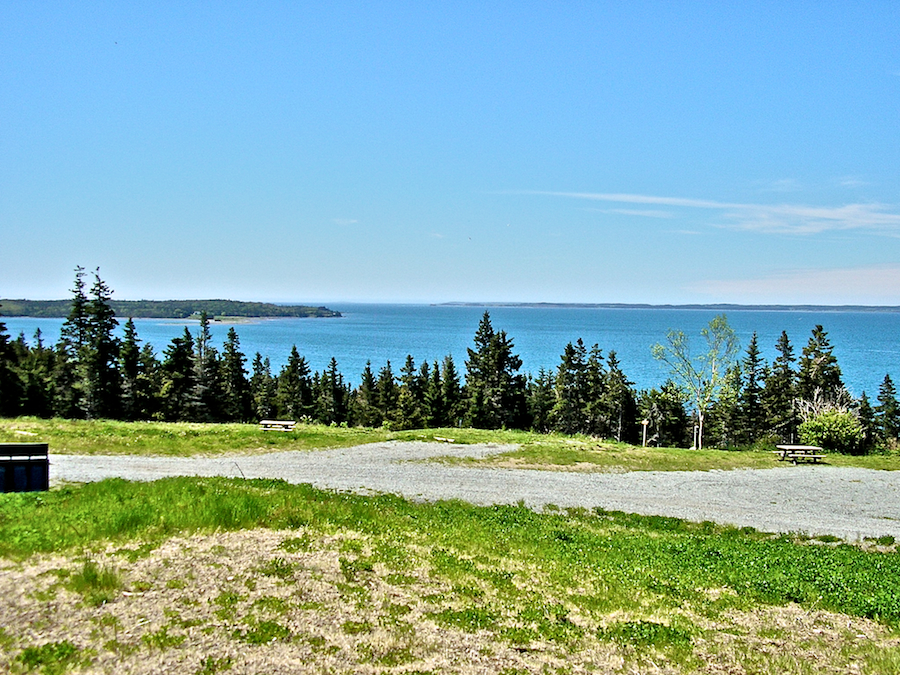 This gorgeous view is just one of many that greets one as one descends from Fort Dorchester to the Battery Provincial Park campground area. The gravel parking spot in the centre of the photo marks one of the campground's camping sites, supplied with a picnic table and the recycling bins at the left. Washrooms and showers are available in a building to the left and outside the scope of this photo. This was my first time in the park and it was before the park was officially opened, so no campers were there, though the park staff was busy, as evidenced by the extensive mowing being done and the crews working at the camp sites to ready them for campers.
The waters in the foreground are those of St Peters Bay. The land across St Peters Bay on the left is known as Grande-Grève (one translation of several possible would be "Long Shore"), so named for the long coast line formed by St Peters Bay as it snakes around the many inlets with interconnected sand beaches that are found here. If you look closely at that shore above and somewhat to the left of the picnic table, you will see a sand bar which extends well out from the land. The northeastern end of Isle Madame (where Cap la Ronde and D'Escousse are located) runs across the centre of the photo to the right in the far distance, with Lennox Passage on this side of the island. The Atlantic lies to the left of Isle Madame.
Even though this photo is a wide-angled view, it does not begin to capture the entire panorama one sees from here. It is a beautiful place and, were I a camper, I can think of few other places in Cape Breton that I'd rather camp than here. There is even some live Scottish and Irish traditional music in the area: Grande-Grève is where Dwayne Côté, the brilliant Cape Breton fiddler, son of the late well-known fiddler Gordon Côté, grew up; he often plays at the Bras d'Or Lakes Inn in St Peter's, which offers Thursday night cèilidhs and "kitchen rackets" (jam sessions) featuring local musicians during the summer months.