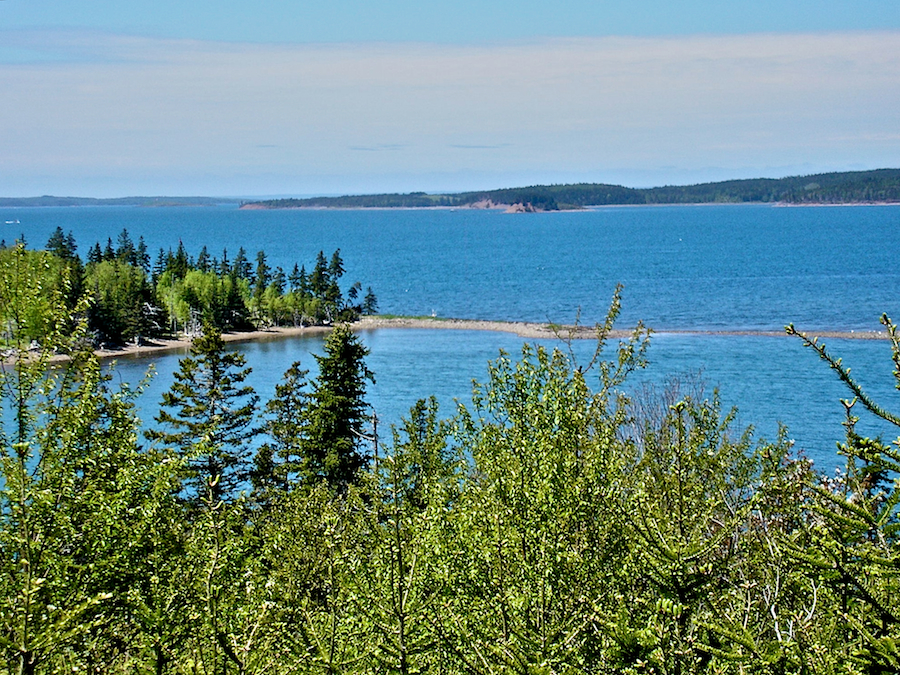 This view, taken from the same place as the previous photo but to the southwest, shows the sandy point (barely) seen from Battery Provincial Park in much better detail and gives a better idea of the sandy shores at Grande-Grève. Beyond the sand bar lies St Peters Bay and across from it the headlands to the south of River Tillard and east of River Bourgeois (on Cape Breton Island). At the left of the photo in the far distance lies the northeastern corner of Isle Madame with Lennox Passage running between the aforementioned headlands and Isle Madame.
I took several additional photos here showing some of the many inlets and sandy shores in this area, but I could not include them without displacing others even more compelling. These views are nevertheless eminently worthy of being admired; by all means seek out this spot along Highway 247—it will well repay your time with fine and varied views of this lovely shore.
There is also this paragraph in Exploring Nova Scotia, p. 292:
Turn right onto a dirt road exactly where the sign for Grande Greve is posted. Follow the road a couple of miles to a small sand beach. This is one of many interconnected beaches and inlets to be explored around St Peter's Bay. On the way to Grande Greve Beach, you will pass an inlet where clam diggers are often hard at work.
I only became aware of this paragraph while preparing this essay; had I known when I was there, I would have certainly sought out the road, which is shown in The Nova Scotia Atlas. Next time…
[2012] Last fall, during Celtic Colours, I finally got around to exploring this road, named Grande-Grève Road (which leaves Highway 247 at GPS 45°37.932'N 60°50.712'W), and drove to its end at Ponds Cove. My Fall Colours—2011 Edition photo essay has several photos taken from this road here and here. As will be seen from these photos, this road is a beautiful drive, affording very fine views of St Peter's, St Peters Bay, and Isle Madame, as well as of the Grande-Grève coastal area at Ponds Cove.