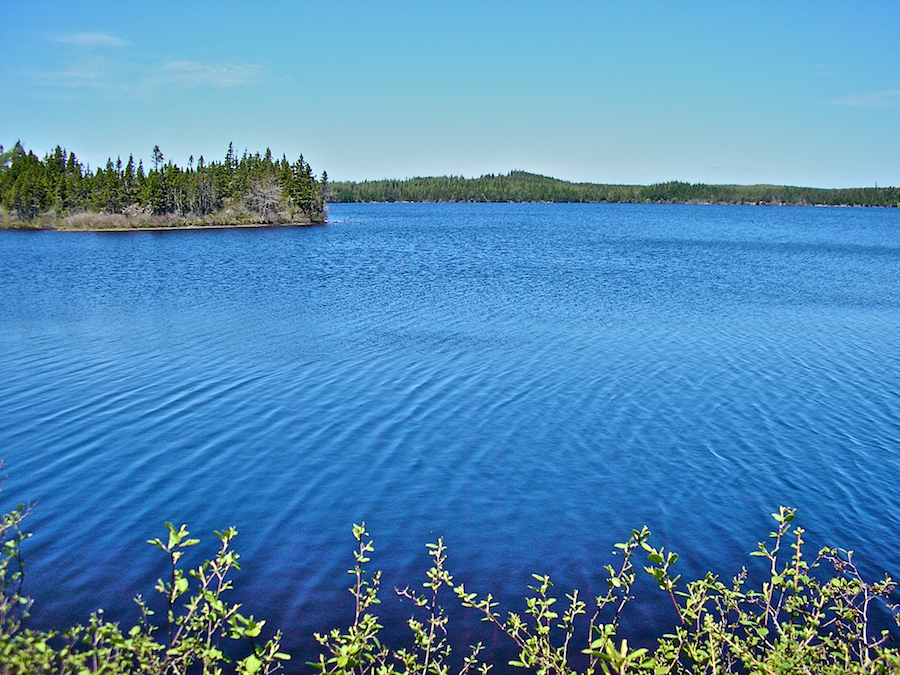 After leaving Grand River, the Fleur-de-Lis Trail (an unnumbered provincial road here, also known as the St Peter's Fourchu Road) passes through almost completely empty back country; until it reaches Framboise, hardly any houses or buildings of any kind are to be seen. As Exploring Nova Scotia says on p. 290, "[f]rom Grand River to Framboise, you will travel through some of the least populated and wildest areas of Nova Scotia". Indeed, for the next two and one half hours from Grand River until I reached Fourchu, I met precisely two vehicles!¹ The course of nearly all of this section of the Trail lies well inland of the coast, with only rare glimpses of the ocean available from a hilltop. This section of the Trail is not without interest, however, as it passes through forested land, over hilly terrain, past beautiful lakes, and across the heads of inlets from the ocean, many carved by streams that flow from the interior to the sea.
The first of the lakes that one encounters north of Grand River is Fergusons Lake, the lovely inland lake whose waters one sees in this photo positively beaming under a radiant sky. The lake is north of, but immediately adjacent to, the Fleur-de-Lis Trail. At the end of Fergusons Lake, a gravel road leads north to Loch Lomond; I haven't travelled this road, but noticed it last fall where it comes out between Grand River Falls and Loch Lomond: it is one I have added to my to-do list for another time.
The lake's name attests to the influence of the Gaels in this area of Richmond County. As this web page (again courtesy of the Wayback Machine, as the original is no longer on-line) informs us:
The name Ferguson is an Anglicization of the Gaelic "Macfhearghus" or MacFergus, son of Fergus, a personal name of old Celtic origin.
The first king of Ireland in 300BC was King Fergus or the [angry one] and was of Celtic origin. His followers became known as the [Sons of Fergus] and this is the origin of Macfhearghus. The First king of Scotland was not until 500AD, eight hundred years after the first King of Ireland. The monarchy of Ireland was moved to Scotland by Mac Erc in 500AD. Ireland was for a time ruled from Scotland. It was a common baptismal name in both Scotland and Ireland from an early date. Subsequently, many families from entirely different origins took the surname. Although often considered as one clan, there are at least four main families of this name spread throughout Scotland: in Argyllshire, Ayrshire, Fife, Perthshire and Aberdeenshire.
As shall become apparent, this name is seen at several other locations in this area of the county and, judging by a Google search for "'Ferguson' 'Richmond County' 'NS'", it remains today a common surname in the county.
[2012] In 2010, I drove the Barren Hill Road, as the gravel road east of Fergusons Lake is known; it was not in wonderful shape, but passable. Its route leads past the southwestern corner of Barren Hill Lake, a pretty spot, and provides a very good idea of the back country terrain in this area of Richmond County.
---
¹ Of course, it does not take two and a half hours to drive straight from Grand River to Fourchu–it's a distance of roughly 40 km (25 mi) and, minus a fairly short rough section, the road is generally in pretty decent shape. That time includes several detours and meandres and a fair amount of time taking photographs along the way.↩